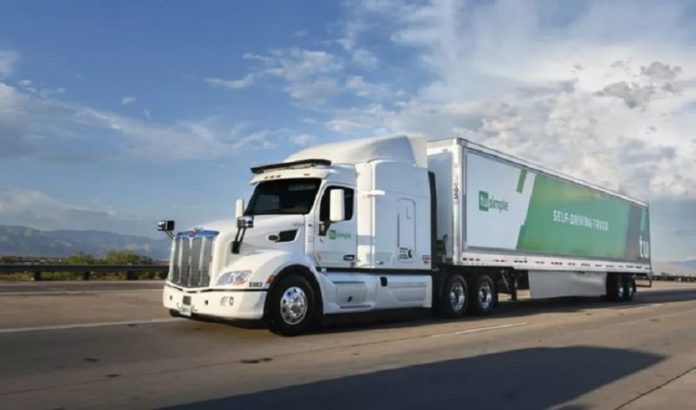 TuSimple and Scania AB intensify testing of unmanned trucks in Sweden
TuSimple, a Chinese autonomous truck driving company, will further deepen cooperation with Swedish commercial vehicle maker Scania in the future to test unmanned trucks with cargo on the E4 highway between Sodertalje and Jönköping in Sweden.
The trucks participating in the test provide actual commercial services to Scania Transport Laboratory and loading materials required for production operations. In the test, the vehicle is automatically controlled by TuSimple's future unmanned driving system, during which a safety officer and a test engineer will monitor the system. In the future, the test will extend the route to all routes from Sodertalje to Helsingborg.
Shanghai will focus on policy innovation to promote the development of the intelligent and connected automobile industry
Today, Zhang Jianming, deputy director of the Shanghai Municipal Commission of Economic Information Technology, stated that Shanghai adheres to the goal of building a world-class automobile industry center and vigorously promotes the development of the intelligent and connected automobile industry.
At present, Shanghai has opened a total of 560 kilometers of self-driving test roads with the Yangshan Port cross-Donghai Bridge smart heavy truck demonstration operations. At present, 152 vehicles from 22 companies have been granted road test and demonstration application qualifications.
Ministry of Science and Technology: Support Shenzhen to strengthen key core technology research
The Ministry of Science and Technology and the Shenzhen Municipal People's Government issued a new document to support Shenzhen in strengthening key core technology research, optimizing and innovating support methods, adopting organizational methods to focus on breakthroughs in 5G and next-generation mobile communication technology, artificial intelligence, and integration research on key core technologies in the fields of circuits, biomedicine, high-end equipment, new materials, and blockchain, and other break through technological bottlenecks in industrial development.
Huawei MateX2 goes on sale today and is sold out immediately
At 10:08 on February 25, the new generation of folding screen flagship Huawei Mate X2 officially went on sale in Huawei Mall, major authorized e-commerce channels, Huawei experience stores, and authorized retailers. At 10:08 on February 25th, users reported that they couldn't purchase the phone as the inquiry page showed "Sorry, you didn't catch the chance to buy the phone."
Toutiao CEO Zhu Wenjia will be transferred to TikTok responsible for technology at the Singapore R&D center
It has been learned from multiple sources that Toutiao CEO Zhu Wenjia will be transferred to TikTok, a subsidiary of ByteDance, to be responsible for business lines such as product technology.
At present, Zhu Wenjia's job adjustment and appointment have not been announced. On the 24th, people familiar with the matter revealed that the TikTok business is under the charge of Venassa (TikTok's former US general manager Vanessa Pappas). Zhu Wenjia will work in the Singapore R&D center due to personal development and adjustment from business to technical positions to support TikTok.

The Ministry of Transport said Lalamove accident where female user jumped out from a window and died shows that development cannot be at the expense of safety
Today, the Ministry of Transport responded to the recent accident of a female Lalamove user who jumped out of a car and died while using Lalamove trucks to move. The ministry said that whether it is a traditional road freight logistics company or a new business model that relies on the Internet and information technology to grow and develop, it should firmly adhere to the bottom line of safety.