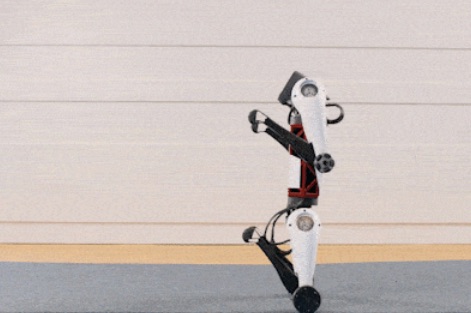 Tencent recently released its self-developed multimode four-foot robotic dog called Max. The new robot came after Tencent unveiled Jamoca, a robotic dog that could walk across raised poles. Both are the product of Tencent's Robotics X Laboratory.
The biggest highlight of Max is a foot-wheel integral design. It can simultaneously combine different moving modes – foot-style motion and wheeled motion according to the environment it is in.
For the foot-style motion, Max is based on Tencent self-researched control algorithm. The average calculation is less than 0.3 ms. It can sit up after failing down, even in rugged road, and can navigate difficult environment.
For wheeled movement, Max integrates NLMPC (Nonlinear Model Predictive Control, Nonlinear Model Predictive) algorithm, QP (Quadratic Programming) optimization, control algorithm to achieve switching from foot-style to wheel-style motion, smooth skating and navigation, and stopping.
The switching between the two movements rests on a mini linear motor that is only about 20 gram. It can make the knee master motor simultaneously act as a drive source of two motions without increasing the weight of the leg.
In this design, the energy consumption under Max wheeled movement is 50% compared to the conventional fusion scheme. In addition, the researchers also designed a special wheel structure, increase the speed of the machine dog wheel movement up to 25 km/h.
Max also has a "nervous system" that can deal with complex environments, which can achieve miypathic strength control to achieve a rapid response.
At the motion planning and control algorithm, Max continued Jamoca's robust control algorithm, but it took a step further. It can achieve standing on two feet. It can use the front leg to make a simple operation task such as motions similar to begging a Hong Bao (red envelop).
In the future, Tencent hope to deploy Max to application use cases including robot patrol, public security, rescue missions and more.