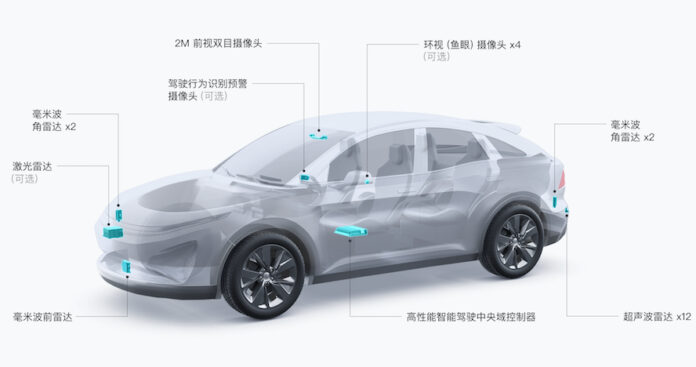 DJI recently announced that mass-produced car models equipped with DJI's intelligent driving solution will be launched within the year. Prior to this, DJI incubated a lidar subsidiary, Livox Technology, which was incorporated into DJI's intelligent driving solutions.
DJI, whose traditional business has been commercial drones, is leverage its core competence of mastering the movement of objects in space to a brand new area with strong growth potentials. Utilizing its experience in sensing, decision-making, planning technology and intelligent hardware mass production, DJI is hoping its automotive unit can become a leading tier 1 supplier in the future smart vehicle field.
DJI Automotive's team was incubated in 2016 and the goal was to create "easy-to-use and affordable" smart car solutions to auto makers. DJI Automotive obtained Shenzhen's first batch of smart connected vehicle test licenses in 2018, and officially launched the "DJI Automotive" brand in 2019, and began testing and certification in accordance with vehicle-level standards.
In 2019, DJI Automotive started to contact customers in the automotive industry, and established cooperation with Volkswagen Group, SAIC-GM-Wuling and other car companies. In the past five years, DJI Automotive has conducted large-scale normalization tests of intelligent driving systems in various road scenes in China.
In December 2020, DJI's intelligent driving solution: D80 urban expressway intelligent driving system, passed the A-SPICE CL2 audit, becoming the first domestic first-tier supplier to use the L2+ intelligent driving solution to pass the audit.
Specifically, the DJI Intelligent Driving D80 series covers the speed range of 0km/h-80km/h, and is suitable for urban expressways. DJI Intelligent Driving D130 series covers the speed range of 0km/h-130km/h, and is suitable for highway driving. Compared with D80 and D130, D80+ and D130+ provide further upgrades in safety and user experience.
For unstructured road scenes such as urban areas, the D80 series and D130 series also provide urban assisted driving functions. This function not only covers advanced driving assistance functions such as adaptive cruise, lane keeping assist, automatic emergency braking, blind spot monitoring reminder and forward collision warning, but also supports crossroad driving assistance functions.
According to the introduction of DJI's in-vehicle engineers, its intelligent driving solution uses space intelligence technology to cope with various complex road conditions, greatly reducing the dependence on GNSS, high-precision maps and V2X.
With DJI's binocular stereo vision technology, any obstacles can be accurately detected without prior training and learning, something DJI has cultivated with its drones products for years. Even in road conditions such as the existence of new and old lanes and no lanes, the dynamic and static information of the environment can be accurately integrated to achieve stability.
In terms of core components for smart driving, DJI Automotive can provide various types of visual perception systems including monocular cameras and binocular cameras, as well as self-developed core components such as smart driving domain controllers and driving behavior recognition and early warning systems, as well as its own lidar component.
So far, DJI Automotive has a core R&D team with more than 500 people, and a production team with more than 200 people and 90% of engineers from well-known OEMs and Tier 1 manufacturers. It has core patents in the automotive field of more than 1,000 items.
(China Money Network's articles are curated and translated from credible Chinese media organizations with established brands, experienced editorial teams, and trustworthy journalism practices. However, we are not responsible for the accuracy of the information. For any questions, please reach out to our editorial department.)