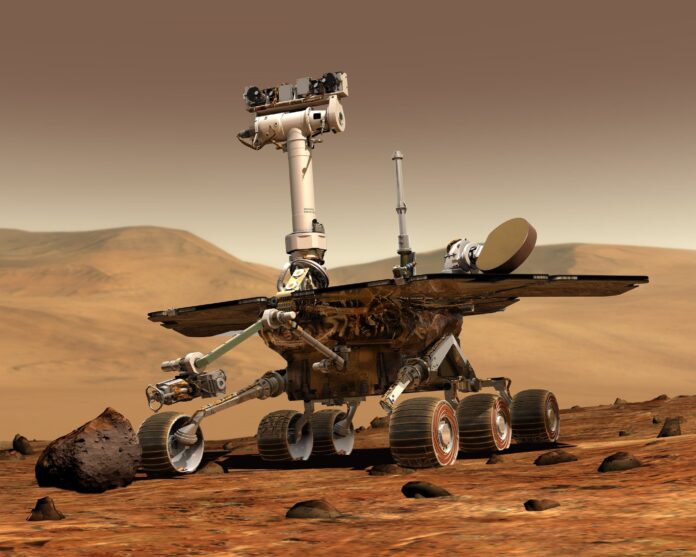 Baidu has co-launched China's first Mars rover
China's Exploration of Mars project and Baidu have jointly launched China's first Mars rover "Zhurong". The Mars rover will be used in multiple scenarios such as knowledge popularization and virtual hosting in the future. The Mars rover Zhurong uses Baidu's digital human technology system, the lightweight deep neural network model designed by Baidu Smart Cloud, and the mouth shape prediction technology based on high-precision 4D scanning, which can generate the digital human's mouth shape, expressions, and actions in real time. The accuracy rate is close to 99%.
Baidu's Kunlun chip ecology first industrialized in China
Recently, Baidu signed a strategic cooperation agreement with a district government of Hubei province and SENSORO, a Chinese IoT solution provider. The three parties will establish the "Baidu Smart Cloud-Kunlun Smart Ecological Center" in Dianjun District of Yichang city to help build an artificial intelligence and chip industry ecology. It is the first industrialization of Baidu's Kunlun chip ecology nationwide.
China Mobile predicts: The scale of China's core AI industry will exceed RMB400 billion by 2025
At the 4th Digital China Summit, Dong Xin, general manager of China Mobile, said that it is expected that in the next five years, direct and driven investment in China's digital new infrastructure will exceed RMB15 trillion, of which 5G will exceed RMB7.5 trillion, and the big data center will exceed RMB5 trillion. It is estimated that by 2025, China's data scale will account for more than a quarter of the world, and the scale of core industries related to artificial intelligence will exceed RMB400 billion.
Great Wall Motor: Chip supply is indeed tight, and independent R&D investment is too large
Great Wall Motor issued an announcement stating that the company's two production bases in Chongqing and Hebei have no plans to suspend production. Despite this, Great Wall Motor is indeed facing a tight supply of chips. The relevant personnel said that the impact is relatively controllable. Regarding whether to conduct independent research and development of chips in the future to avoid the passive situation caused by foundries to increase prices or stop production, Great Wall Motor revealed that the cost of independent research and development is relatively high, and there are no more plans in this regard.
Chinese AI hearing technology firm Elevoc completes series B round financing
Elevoc Technology, a Shenzhen-based AI hearing technology firm, has recently raised over RMB100 million in a series B round financing, led by Lanpu Capital, participated from Goldport Capital and Jiakang Technology Venture Capital. Elevoc Technology focuses on the development and application of AI intelligent hearing technology. The latest proceeds will be used to further attract industry talents and accelerate development of algorithms in the fields of mobile communications, remote conferences, Bluetooth headsets, hearing aids, smart homes, and in-car sound field control as well as special chips.
UISEE and Leader Space reached a strategic cooperation
Chinese AI driving solution provider UISEE and big data service company Leador signed a strategic cooperation agreement in Wuhan. The two parties will deepen cooperation in areas such as autonomous driving and high-precision maps, jointly explore the industry market, and accelerate the large-scale implementation of autonomous driving technology.
Shenzhen accelerates 5G industry investment, focusing on breakthroughs in 5G network chips
Shenzhen government recently released "Shenzhen's Several Measures to Accelerate the High-Quality Development of the 5G Industry Chain (Draft for Public Comment)". It plans to expand the scale of 5G industry, improve the 5G industry chain, focus on breakthroughs in 5G network chips, build a 5G industry ecosystem, create a model city for 5G industry applications, and provide safeguard measures. Besides, Shenzhen government will invest RMB1 billion every year for 5 consecutive years to support the development of the city's 5G industry.
Chinese scientists have discovered marine microbial flora and enzymes that can effectively degrade plastic waste
It is learned from the Institute of Oceanology, Chinese Academy of Sciences that the research team of the institute has successfully obtained a bacterial flora that can effectively degrade plastic waste, and screened multiple enzymes that can obviously degrade polyethylene plastic from this bacterial flora. The result was recently published in Journal of Hazardous Materials.
JD Group pilots e-RMB payroll and corporate payments
In January of this year, JD Group piloted e-RMB payroll, and issued the first batch of digital RMB wages to some employees based in Shanghai, Shenzhen, Chengdu, Changsha, and Xi'an. In the scenario of corporate payments, JD's corporate procurement solution "Yiqifu" currently supports e-RMB payment, which can relieve the complex and recognized offline payment operations of the platform and corporate users without changing the corporate procurement process.
PBC's Digital Currency Research Institute and Ant Group co-build a digital RMB technology platform
The Digital Currency Research Institute of the People's Bank of China has signed a technical strategic cooperation agreement with Ant Financial. The two parties will jointly promote the construction of a digital RMB technology platform based on Ant Group's independent research and development of the distributed database OceanBase and mobile development platform mPaaS.
(China Money Network's articles are curated and translated from credible Chinese media organizations with established brands, experienced editorial teams, and trustworthy journalism practices. However, we are not responsible for the accuracy of the information. For any questions, please reach out to our editorial department.)