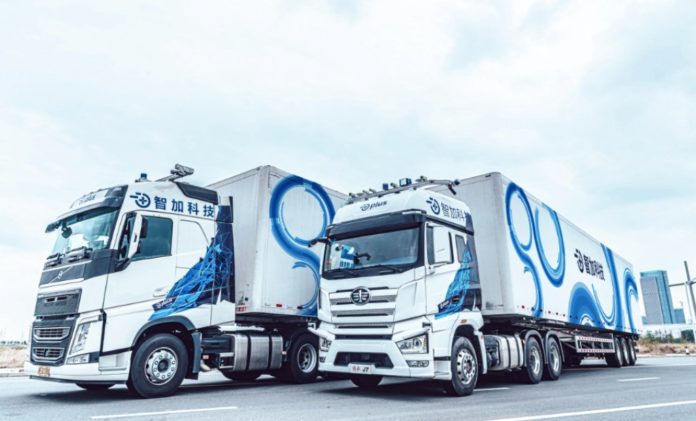 PlusAI plans to list on New York Stock Exchange
Chinese self-driving trucking system developer PlusAI announced that it has signed a merger agreement with the special purpose acquisition company (SPAC) Hennessy Capital Investment Corp. V. After the merger is completed, PlusAI will list on the New York Stock Exchangeuse with the stock code "PLAV" in the third quarter of this year. According to the terms of the transaction, after the merger, PlusAI will have a market value of approximately US$3.3 billion and will raise approximately US$500 million in new financing.
Pony.ai launches an all-in-one autonomous driving system equipped with Luminar lidar
Pony.ai and Luminar, a leading company in the field of lidar, jointly launched a new autonomous driving system. Based on the system platform launched this time, Pony.ai plans to mass-produce a car-level automatic driving system in 2023, equipped with a car-level sensor solution, and will use Luminar's Iris lidar at that time. It is also the first time Luminar has chosen to cooperate with an autonomous driving company in China.
Former CEO of Shouqi Limousine & Chauffeur joins Baidu and will lead Apollo's robotaxi
Wei Dong, the former CEO of Shouqi Limousine & Chauffeur, officially joined Baidu as the vice president of Baidu's intelligent driving business group and the chief safety operation officer of Baidu's intelligent driving business group. Later, Wei Dong will lead the commercial operation of Baidu's Apollo robotaxies.
DAC Biotech completes RMB1 billion series C round of financing
DAC Biotech has recently completed a RMB1 billion C round of financing. This round of financing was co-led by GL Ventures, CITIC PE and CDG Capital. The proceeds raised will be used for the research and development of ADC innovative drugs, and optimization of the company's shareholding structure. Established in 2012, DAC Biotech is an enterprise focusing on the development of antibody-drug conjugates (ADC).
Alipay has added digital RMB service to some users
Alipay has added a digital RMB service module to some users, and users can open a Mybank's e-RMB wallet after following the prompts on the page. The e-RMB wallet of Mybank can be used anonymously and in real name. Anonymous use only supports transfer and consumption functions, and real-name users also enjoy transfer-in and transfer-out functions. The upper limit of balance, transfer and consumption for real-name users are higher.
China successfully developed 62-qubit quantum processor named "Zu Chongzhi"
A Chinese research team has successfully designed a 62-qubit programmable superconducting quantum processor, naming it Zu Chongzhi after the noted 5th century Chinese mathematician and astronomer. The computer contains the largest number of superconducting qubits so far in the world, and achieved two-dimensional programmable quantum walks on the system, a major milestone in the field.
The study was conducted by a research team from the University of Science and Technology of China (USTC), and was published Friday in Science magazine, one of the top academic journals in the world.
Gaussian Robot and Kone Elevator jointly release the world's first digital elevator
Recently, Gaussian Robot and Kone Elevator jointly released the world's first digital elevator series DX elevator. According to the official introduction, the DX elevator does not need to install an additional elevator control system, and does not need to make any changes to the elevator circuit and structure. Kone Elevator invited Gaussian Robot to join in the development stage of the DX elevator. The two parties launched technical cooperation to connect their cloud platforms to enable the DX elevator to interact with the robot in real time and realize the function of autonomous riding. At present, Gaussian Robot is cooperating with brands such as Schindler in Switzerland and ThyssenKrupp in Germany.
Keenon Robotics will export food delivery robots to Singapore, South Korea and other countries
Keenon Robotics recently announced that it expects to establish branches in at least 10 countries by the end of 2021. The company entered Japan in March this year and plans to expand its business to South Korea and Singapore, as well as other markets in Europe, North America and the Middle East. It is reported that Keenon Robotics nearly doubled its production capacity last year to meet its overseas expansion plan. The company said its factory can produce up to 200,000 service robots.
(China Money Network's articles are curated and translated from credible Chinese media organizations with established brands, experienced editorial teams, and trustworthy journalism practices. However, we are not responsible for the accuracy of the information. For any questions, please reach out to our editorial department.)