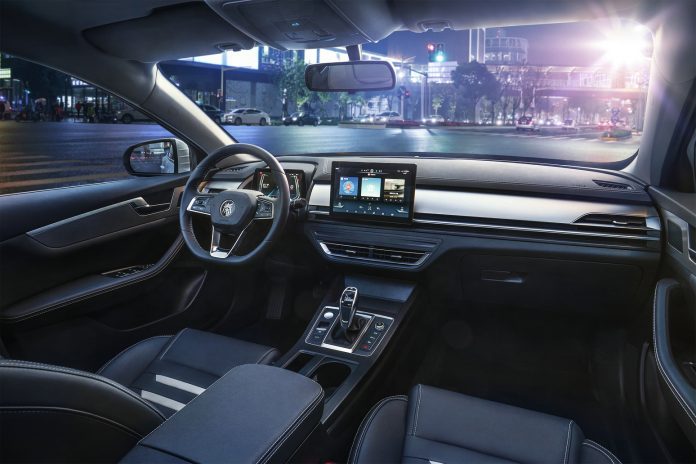 On the evening of May 11, 2021, BYD Co., Ltd. (002594.SZ) announced that the board of directors passed a resolution that the company intends to spin off its subsidiary BYD Semiconductor and to list it on the Shenzhen Stock Exchange's Growth Enterprise Market.
After the spin-off is completed, BYD will still maintain control of BYD Semiconductor, and BYD Semiconductor will remain a subsidiary within the scope of BYD's consolidated statements.
BYD Semiconductor will focus on automotive-grade semiconductors and simultaneously promote the development of semiconductor business in the auto industry, home appliances, new energy, consumer electronics, and other sectors. It is committed to becoming an integrated new semiconductor supplier.
BYD Semiconductor mainly manufactures IGBT (Insulated Gate Bipolar Transistor) related chips. The chip manufacturing process is 45nm, and the chip manufacturing process is self reliant and self-controlled independently.
In 2020, BYD's IGBT chip wafer production capacity has reached 50,000 pieces/month, and it is expected to reach 100,000 pieces/month in 2021, and it can supply 1.2 million new energy vehicles a year.
In 2019, in terms of sales, Infineon ranked first in the Chinese automotive-grade IGBT chip market, with a market share of 49.3%, followed by BYD, which mainly supplied its own brand of new energy vehicles, and achieved 20% market share.
According to BYD Semiconductor's unaudited financial data, in 2020, BYD Semiconductor's net profit will be 32 million yuan, and its net assets will be 3.187 billion yuan at the end of the year. BYD Semiconductor's net profit accounts for about 0.78% of BYD's entire business, and its net assets account for 4.05%.
BYD Semiconductor was established on October 15, 2004, formerly known as Shenzhen BYD Microelectronics Co., Ltd. In 2007, BYD established an IGBT module production line and completed the sample assembly of the first electric vehicle IGBT module. In 2008, BYD spent 171 million yuan to acquire the Ningbo Zhongwei wafer foundry to add wafer manufacturing capabilities.
In 2009, BYD launched its first automotive-grade IGBT 1.0 technology; in 2012, BYD's IGBT 2.0 chip was successfully developed; by 2020, BYD's self-developed IGBT chip has had 5 generations, and has been installed on more than 1 million vehicles.
Currently, BYD Semiconductor is accepting CICC's listing counseling.
Data show that in 2019, Shenzhen has 26 companies with integrated circuit design sales exceeding 100 million yuan. Among them, BYD Semiconductor ranks fourth with sales of 3 billion yuan, after HiSilicon (83.4 billion yuan) and ZTE Microelectronics (80 billion yuan), Goodix Technology (6.47 billion yuan).
Previously, there were news reports that BYD and Huawei had signed a cooperation agreement to build a automobile-level Kirin chip. Its first product was reported to be Kirin 710A, which was previously mass-produced by SMIC using 14nm process technology.
If BYD and Huawei can achieve the production of the chip, the Kirin 710A could become a landmark product that is produced with self-reliant and self-controlled industrial chain from design, manufacturing, to packaging and testing.
Technology Gap
IGBT chip is the most representative product of BYD Semiconductor. IGBT is the core chip in the electric car, because of its high design threshold, challenging manufacturing technology, and intensive capital investment.
Compared with Infineon's IGBT chip, BYD's self-developed chip still lags behind. Infineon's IGBT has developed to the 7th generation, and BYD's IGBT 4.0 was released at the end of 2018 and is only equivalent to the international 5th generation IGBT.
In terms of cost, Infineon has a 12-inch production line, while BYD has an 8-inch production line. The larger the wafer, the lower the manufacturing cost per chip.
In terms of process, the most important process for IGBT chips is the thinning process. Infineon's IGBT chips can be thinned down to 40μm (micrometers), while BYD's level at the end of 2018 is 120μm.
BYD also produces MCU chips for vehicles. Whether it is an electric car or a traditional car, MCU chips are a core part related to control units, wipers, windows, power seats, air conditioning controllers, driving assistance, adaptive cruise control, rear-view mirror control, and more.
In 2007, BYD Semiconductor entered the MCU chip field. In 2018, BYD launched the first generation of 8-bit automotive-grade MCU chips, and in 2019, it launched the first-generation 32-bit automotive-grade MCU chips.
Tianyancha app shows that in 2020, BYD Board Semiconductor has received a total of 3 financings. It received 1.9 billion yuan in financing from Sequoia Capital, China CICC Capital, SDIC Innovation and Himalaya Capital in its A round of financing on May 27.
On June 15th, it obtained 800 million yuan A+ round of financing from many financial and industrial investment institutions such as SK China, Xiaomi Group, SMIC, SAIC Investment, BAIC Industry Investment Fund. After the financing is completed, BYD Semiconductor's valuation reached 10.2 billion yuan.
Everbright Securities believes that with the advent of the era of new energy vehicles and the country's emphasis on the autonomy of semiconductors, it could make the value of BYD's semiconductor more prominent.
Through the spin-off and listing, the value of the semiconductor business can be revalued in the capital market and its market value can be fully tapped, which is expected to drive BYD's overall market value upward.
The unit is choosing an optimal time for the listing. On February 4, 2020, when Star Semiconductor, another Chinese semiconductor firm, went public, it was given a P/E ratio of 23 times, corresponding to a market value of about 3 billion.
Due to the scarcity of domestic IGBT chips, Star Semiconductor became highly sought after after it went public, and it soared by 870% in the first month. Today, the market value of Star Semiconductor has exceeded 30 billion.
Both Star Semiconductor and BYD Semiconductor claim that they are the number one IGBT chip supplier in China. BYD Semiconductor is an IDM (Integrated Design and Manufacture) company that can both design and manufacture. Star Semiconductor is mainly focused on design and outsource manufacturing to outside foundry.
Although more than 80% of domestic automobile chips are still imported now, in 5 to 10 years, domestic automobile chips can be more autonomous and controllable, said one industry insider.
In the field of automotive-grade IGBT chips, in addition to BYD, another major Chinese IDM player is CRRC Times Electric. In September 2020, CRRC rolled off the first 8-inch automotive-grade IGBT chip production line in China.
And Zhixin Semiconductor, a joint venture between CRRC and Dongfeng, has a production line with an annual output of 300,000 automotive-grade IGBT chip modules that will be put into mass production in April.
(China Money Network's articles are curated and translated from credible Chinese media organizations with established brands, experienced editorial teams, and trustworthy journalism practices. However, we are not responsible for the accuracy of the information. For any questions, please reach out to our editorial department.)