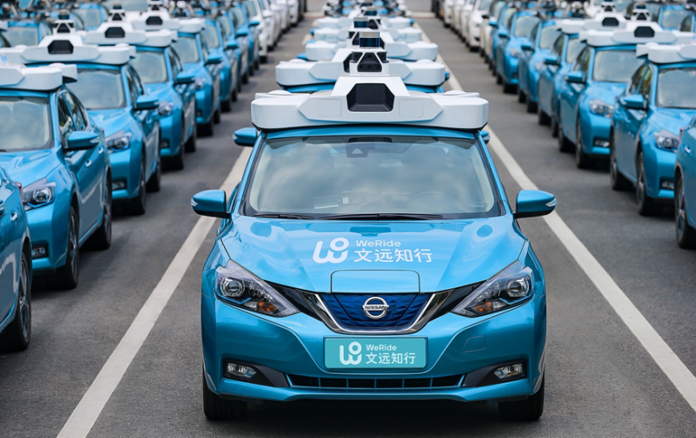 WeRide, a global leading autonomous driving company, announced today that it has secured another round of fundraising, totaling hundreds of millions (USD), from IDG Capital, Homeric Capital, CoStone Capital, Cypress Star, Sky9 Capital, K3 Ventures, etc. CMC Capital Partners, Qiming Venture Partners and Alpview Capital as existing investors also participated in this round. This comes just four months after its Series B fundraising of US$310 million, with the new round resulting in the company's valuation at US$3.3 billion.
Tony Han, Founder and CEO of WeRide, said: "WeRide Master Platform (WMP), our core autonomous driving technology solution has helped to accelerate the company's development. This drives the successful operation of our Robotaxi service in Guangzhou since 2019 and the introduction of the WeRide driverless Mini Robobus, a completely new product category to the autonomous industry. It has been rewarding to see that these remarkable achievements have resulted in investor optimism. With this round of funding, WeRide will continue to invest in R&D and commercialization, with the aim of delivering large-scale autonomous mobility in the coming future."
Established in 2017, WeRide is headquartered in Guangzhou, China, and maintains R&D and operation centers in Beijing, Shanghai, Nanjing, Wuhan, Zhengzhou and Anqing, as well as Silicon Valley in the US. It launched the first Robotaxi service, completely open to the public, in November 2019 in Guangzhou, covering an area of 144 square kilometers. Since June 2020, WeRide's Robotaxi service became available to the public through Amap, a popular ride-hailing mobile app in China with 140 million monthly active users. A total of 147,128 trips were completed with more than 60,000 passengers during the first year of WeRide Robotaxi services.
Since its US$310 million Series B funding in January, WeRide has achieved a series of notable milestones. At the end of January, WeRide's self-driving cars cruised into Guangzhou's Central Business District (CBD), making it the first autonomous driving company to conduct test drives in the center of a tier 1 city in China. This was followed by the company's driverless Mini Robobus making its debut in both Guangzhou and Nanjing to conduct regular road testing. In early February, WeRide secured an official license for online car-hailing operations, becoming the first autonomous driving company in China to hold such a qualification. In April, WeRide also obtained a permit from the California Department of Motor Vehicles (DMV) to conduct driverless testing on public roads in San Jose, making it the first startup ever to hold driverless test permits in both China and the U.S.
With the goal of showcasing progress in driverless technology, WeRide launched a series of videos that document WeRide's driverless test drives in urban arterial roads, secondary arterial roads, expressways, tunnels, toll stations, highways, and many others. Filmed from multiple angles, the videos are testimony to the company's leading technology as well as WeRide's dedication to ensuring self-driving vehicles can navigate different traffic scenarios.
WeRide is now rolling out driverless testing in both China and the U.S., expediting the emergence of next generation of driverless taxis, while also completing final tests for the operation of the company's Mini Robobuses.