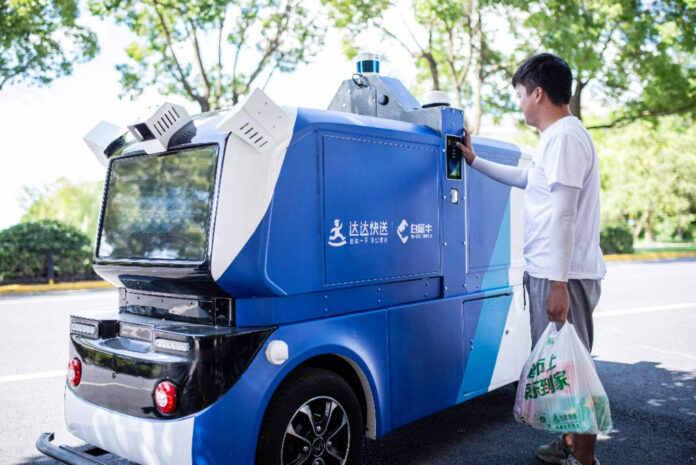 Dada Group and Sam's Club jointly launch unmanned delivery service
On September 1, the unmanned delivery service provided by Dada Group for some orders from Sam's Club was put into operation, and JD Logistics' unmanned vehicles were connected to the open platform of Dada Group. According to reports, users who place orders through platforms such as JD Daojia and Sam APP can enjoy the "one-hour delivery" service from unmanned vehicles.
A production line of Tesla's Shanghai factory was partially suspended last month
Due to lackage of key chips, a production line at Tesla's Shanghai factory suspended partial production for about four days last month. Due to confidentiality of the details, these people familiar with the matter asked not to be named. One of the people said that the main shortage is the chips required by the electronic control unit (ECU), which is a small device that controls one or several electronic systems on a car. This problem caused the delay of Tesla Model Y production. The production line has currently returned to normal state.
Alibaba Group will invest RMB100 billion to promote common prosperity
Alibaba Group has launched "Alibaba's Ten Major Actions to Promote Common Prosperity" and will invest a total of RMB100 billion by 2025 to help common prosperity, according to insiders. In order to promote the implementation of the ten major actions, Alibaba will set up a permanent organization.
Self-driving technology startup Hongjing Drive completes series A+ round
Chinese self-driving technology company Hongjing Drive recently announced the completion of a series A+ round financing worth tens of millions of RMB, led by Country Garden Venture Capital, with participation from Hangzhou Financial Investment and Walden International. Proceeds of the round will be used to develop teams, technologies and products.
IDC: China's wearable market grew 33.7% year-on-year in Q2
According to IDC China Quarterly Wearable Device Market Tracker, Second Quarter of 2021, China's wearable device market shipped 36.14 million units in the second quarter of 2021, a year-on-year increase of 33.7%. Among them, the market shipment of earwears reached 19.96 million, a year-on-year increase of 58.2%. IDC believes that China's wearable market will usher in fiercer competition in the second half of this year. The competition is not only reflected in the price competition of the earwear market, but also in the game of form and sensor technology between wristbands and smartwatches.
(China Money Network's articles are curated and translated from credible Chinese media organizations with established brands, experienced editorial teams, and trustworthy journalism practices. However, we are not responsible for the accuracy of the information. For any questions, please reach out to our editorial department.)