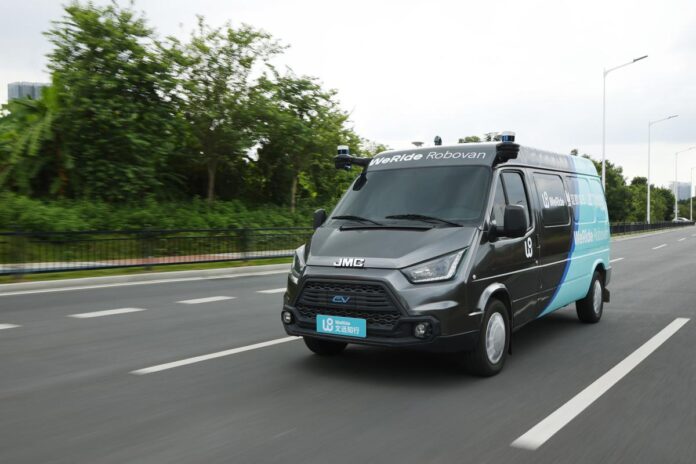 WeRide launches first L4 self-driving cargo van
Chinese autonomous driving technology developer WeRide launched its first L4-level self-driving cargo van yesterday and announced that it will work with Jiangling Motors, a major Chinese automobile manufacturer, and ZTO Express, a leading express delivery company in China, to drive mass production and the commercialization of the newly unveiled WeRide Robovan. Robovan's design is based on Jiangling's battery electric vehicle model, equipped with WeRide's full-stack software and hardware solutions.
LinkDoc plans to raise US$300 million before HK IPO
Alibaba-backed medical information platform LinkDoc Technology will start a new round of financing before Hong Kong IPO, and plans to raise US$300 million.
AR company HiScene completes a RMB270 million series C+ round
AR technology company HiScene announced the completion of a RMB270 million series C+ round financing. The new round was led by CITIC PE, with participation from Jadex Capital, Esmartwave and other existing investors such as V Star Capital, Sincere Capital, Ondice Capital, MYEG, etc. After this round of financing, the company will continue to rely on AR/AI technologies such as space computing, AR cloud, natural interaction and AR smart hardware to strengthen and upgrade the AR platform HiAR Space and accelerate application of their products and services in vertical industries.
Canalys: Only 10% of every 1 billion cars in use are equipped with ADAS
Global market research firm Canalys released the latest research report, pointing out that by the end of 2020, only 10% of every 1 billion vehicles in use worldwide are equipped with advanced driver assistance systems (ADAS). Currently, in major markets such as China, Europe, Japan, and the United States, one-third of new cars have been equipped with ADAS functions. However, it will take several years to complete the equipment on half of the cars in use worldwide.
CICC: Internet of Everything opens a new decade, the growth of consumer-level AIoT is expected
According to CICC's research report, with the maturity of underlying technologies such as 5G and AI, they look forward to the gradual prosperity of next-generation applications represented by wearable devices, AR/VR, smart homes and smart cars. CICC is optimistic about the Internet of Everything (IoE) to take over smart phones and start the next decade of consumer electronics innovation cycle. Under the influence of factors such as the increase in the number of IoT connections, the slowdown of smartphone innovation, and the dual drive of hardware and scenario, the interactive models of electronic products are expected to usher in new iterations and updates, and the growth of consumer-level AIoT era is expected.
(China Money Network's articles are curated and translated from credible Chinese media organizations with established brands, experienced editorial teams, and trustworthy journalism practices. However, we are not responsible for the accuracy of the information. For any questions, please reach out to our editorial department.)