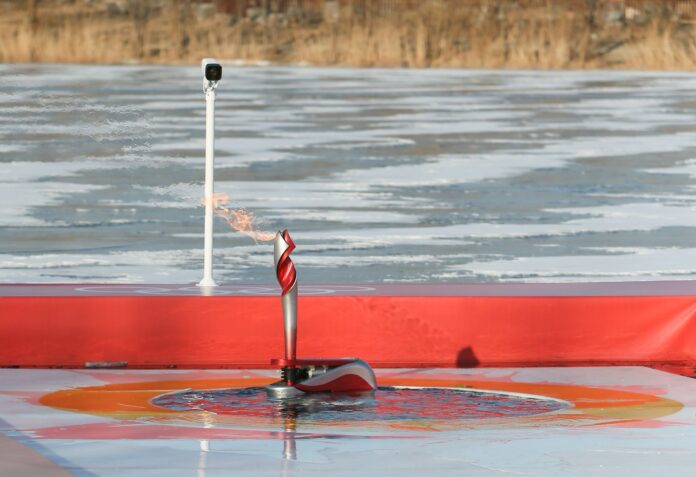 Robots complete first Olympic torch relay underwater
On February 2, the first underwater torch relay between robots in the history of the Olympic Games was completed by an amphibious robot and an underwater variable robot at Beijing's Winter Olympic Park. Underwater torch relay not only needs to break through underwater hovering, high-precision positioning and other technologies to achieve precise operation, but also overcome the problems of smokeless combustion and maintaining the visual effect of flame underwater.
Robots serve the smart canteen at main media center of Beijing Winter Olympics
At the main media center of the Beijing Winter Olympics, the number of journalists arriving in the Chinese capital has increased significantly. A huge canteen has been opened up for journalists, covering an area of ​​3,680 square meters, which can accommodate nearly 1,000 guests at the same time. In the kitchen, robots and humans work together – a dozen machines that cook independently and serve meals without human intervention. Dishes include traditional Chinese stir-fries, Western burgers and fries. All robots are behind clear glass so everyone can watch the cooking process. In addition to cooking, robots can fly under the ceiling to deliver meals. Customers can enjoy food immediately in their seats, without having to gather or wait in front of food stalls, avoiding human-to-human contact during the pandemic.
China will establish a cross-border semiconductor committee
China is mulling the establishment of a cross-border semiconductor committee, whose purpose is to promote cooperation between Chinese local companies and international semiconductor giants. The committee plans to start preparations in the first half of this year, and will be jointly implemented by the competent department and the laboratory of Tsinghua University. At that time, a research and development center for software, materials and manufacturing equipment will be also established.
The committee encourages local Chinese companies to cooperate with foreign companies. Potential international partners include Intel, Chilwee, Infineon and ASML. Chinese local semiconductor companies like SMIC, universities and other chip R&D institutions will also participate in the plan.
(China Money Network's articles are curated and translated from credible Chinese media organizations with established brands, experienced editorial teams, and trustworthy journalism practices. However, we are not responsible for the accuracy of the information. For any questions, please reach out to our editorial department.)