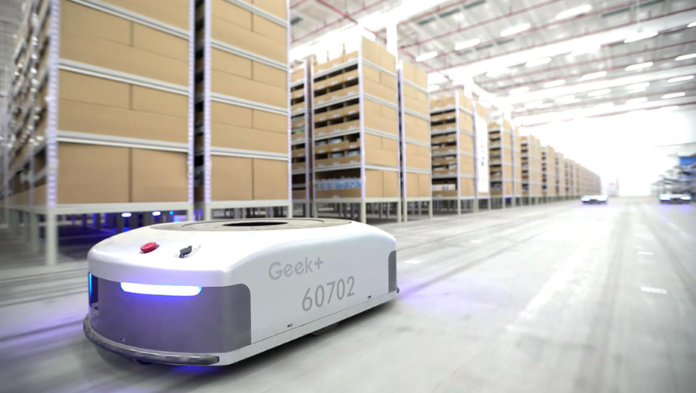 Chinese logistics robotics firm Geek+, also known as Geek Plus, has closed the first tranche of capital in a series C1 funding round that is expected to raise over US$150 million, the company founder announced on Wednesday.
Geek+ secured the first tranche of capital led by global venture capital firm GGV Capital and hedge fund D1 Capital Partners, with the participation of its existing shareholders including Warburg Pincus, the founder and chief executive officer Zheng Yong told China Money Network on the sidelines of the 2019 RISE technology conference in Hong Kong.
The company also received "clear investment intentions" from several other investors and would "soon complete" the series C1 round at an amount exceeding the US$150 million it previously closed in a series B round in November 2018 — setting another fundraising record in the logistics robotics industry, according to a company statement released on late Wednesday.
Geek+, founded in 2015, operates as a robotics firm that integrates artificial intelligence (AI), big data, cloud computing, and internet of things (IoT) to provide intelligent robotics solutions and one-stop supply chain services. The company's AI-enabled logistics solutions include "cargo-to-man" picking system, intelligent moving system, intelligent sorting system, and automated forklift, to help clients achieve highly-automated, or unmanned warehouses and factories covering warehousing, logistics, and manufacturing.
The company, claiming to be the top market player in Japan, has by far delivered over 7,000 units of robots and more than 200 solutions. The firm counts Chinese internet giant Alibaba, smartphone manufacturer Xiaomi, logistics firm SF Express, and retailer Suning among its corporate clients.
"As a key infrastructure of an economic system, the logistics sector serves as a pillar for e-commerce, consumption and retail which operate on a scale of trillions. With reliable hardware and effective algorithms, Geek+'s smart robotics solutions enable better efficiency in the supply chain," said GGV Capital managing partner Jenny Lee, in the aforementioned statement.
Behind the rapid international business growth of Geek+ is the continuous support from Warburg Pincus. The American private equity major first poured money into Geek+ by leading its US$60 million series B round in July 2017. In March 2017, the company also closed RMB100 million (US$14.55 million) in a series A+ round led by Vertex Ventures, a wholly-owned unit of Singapore's Temasek Holdings.