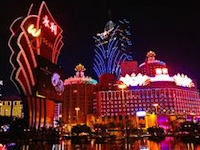 Gaming revenue from the six casino operators in Macau reached US$45.2 billion in 2013, up 18.6% year-on-year, according to the Macau Gaming Inspection and Coordination Bureau.
Macau's gaming revenue for the month of December is up 18.5% year-on-year to US$4.2 billion.
Macua is the world's largest gambling center. The Las Vegas Strip generated US$5.8 billion from January to November in 2013, compared with Macau's US$41 billion during the same period.
The six casino operators in Macau are Wynn Macau, Sands China, Galaxy Entertainment Group, SJM Holdings, MGM China Holdings and Melco Crown Entertainment.