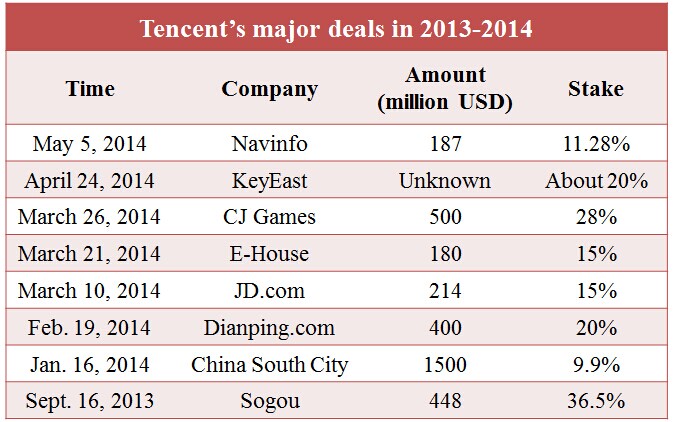 Chinese Internet giant Tencent Holdings Ltd. has spent at least over US$3.5 billion on eight major deals since last September, buying up stakes in gaming companies, logistics, mapping and e-commerce platforms.
Its central theme: to leverage and monetize its fast-growing mobile messaging app WeChat, which has 355 million monthly active users as of March 2014.
Through these deals, Tencent is looking to incorporate payment services, review and recommendation, search, mapping, online travel and content creation into its Wechat app.
This will provide WeChat users a smooth one-stop experience, where they can fulfill their needs, be it entertainment, online shopping or real-time navigation. Tencent's rival, Alibaba Group Holdings, is also trying to accomplish this through its own series of major acquisitions this year.
Here, we recount Tencent's major deals in the past ten months: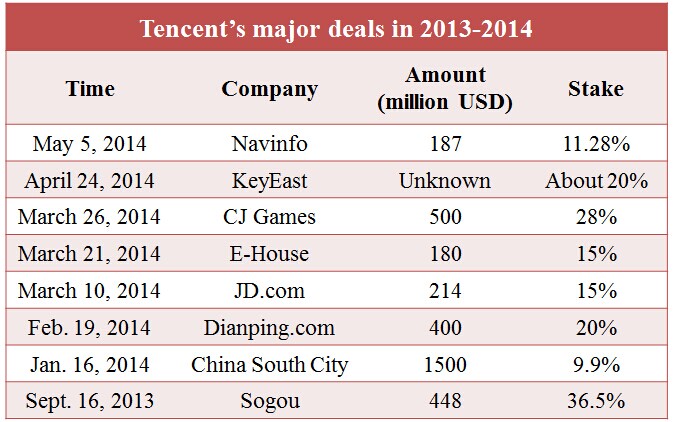 On May 5, Beijing-based digital mapping service provider Navinfo Co. Ltd. said Tencent had agreed to acquire an 11.28% stake of Navinfo for $187 million.
On April 24, Tencent said it was planning to acquire a 20% stake in Korean celebrity management agency KeyEast Entertainment Co.,Ltd.
On March 26, Tencent announced it would make a strategic investment to acquire a 28% stake in the South Korea's gaming company CJ Games for US$500 million. The transaction will make Tencent the third largest shareholder in that company.
On March 21, Shanghai-based real estate services company E-House (China) Holdings Limited said Tencent would acquire a 15% stake in its wholly owned subsidiary Leju Holdings Limited for US$180 million.

On March 10, Tencent acquired a 15% stake in Beijing-based e-commerce firm JD.com for US$214.7 million.
On February 19, Shanghai-based Chinese review website Dianping.com and Tencent jointly announced Tencent will acquire a 20% stake of Dianping after a strategic investment.
On January 16, Hong Kong-listed Chinese logistics center developer China South City Holdings Ltd. and Tencent jointly announced that Tencent has agreed to acquire a 9.9% stake of the company for US$193 million.
On September 16, 2013, Tencent said it would acquire 36.5% of Sougou, a search engine that is a subsidiary of Sohu.com, Inc., for US$448 million.