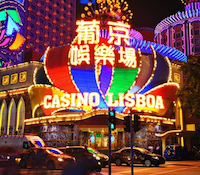 Macau's total gross gaming revenue dropped 3.7% in June to 27 billion patacas (US$3.4 billion), the first decline in five years, because of softness in the VIP table segment and the distractions of the World Cup, according to Macau's Gaming Inspection and Coordination Bureau.
Fitch Ratings has therefore lowered its Macau gaming revenue growth estimate to 10% from its previous forecast of 12% for the year of 2014. The rating agency is forecasting low single-digit declines in the VIP segment, and 25% to 30% expansion for the mass market for the next six months.
Fitch believes that Macau's mass gaming market will continue to be supported by long-term drivers, such as improved transportation infrastructure and growing middle-class in China.
But the VIP segment is more sensitive to macroeconomic factors in China. It has taken a hit lately because of the anti-corruption and frugality campaigns initiated by the current leadership led by President Xi Jinping.
In addition, Fitch expects that an almost full prohibition of smoking in Macau's casinos, which will come into effect this October, will bring marginal negative impact on the mass gaming market. Mainland visitors may spend less time at the tables because of the smoking ban.