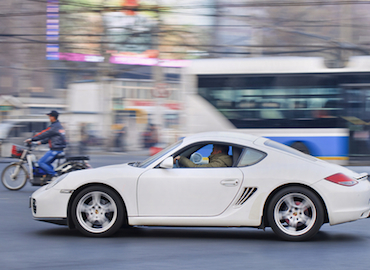 In less than 20 months, Ucar Group, a mobile app-based chauffeured car service unit launched by rental car firm Car Inc., has completed a listing on China's New Third Board with a valuation of RMB36.9 billion (US$5.5 billion), a staggering feat even in China's rapid-paced tech world.
The debut makes Ucar, one of the youngest tech unicorns in the world, the second largest listed company in the National Equities Exchange and Quotations (NEEQ), just behind Chinese private equity firm JD Capital.
Though the New Third Board has limited liquidity, the listing positions Ucar for a potential transfer to the domestic main boards in Shanghai and Shenzhen, in addition to offering the start-up a new financing channel.
Company chairman and chief executive Charles Zhengyao Lu, who is also the founder and chairman of parent Car Inc., is the largest shareholder with an 11.9% stake in UCar. The stake is valued at RMB4.39 billion.
According to a securities filing, UCar has cumulative paid users of nearly five million at the end of 2015, with daily average orders of 230,000.
Officially launched in January 2015, the company applied to list in April after announcing a RMB3.68 billion (US$569 million) new financing round from Alibaba Group Holdings Ltd., China International Capital Corp, CITIC Securities and Shenwan Hongyuan.
Alibaba later transferred its shareholding in Ucar to its affiliated funds, Yunfeng Capital and Yunling Capital, reportedly due to protests from Didi Chuxing, in which Alibaba is also a shareholder.
Ucar received US$250 million from Warburg Pincus LLC, parent company Car Inc., Legend Holdings and other investors in July that year.
Two months later, Warburg Pincus and Legend Holdings joined a US$550 million series B round in Ucar.
In April 2014, Ucar raised RMB3.68 billion (US$569 million) from Alibaba, China International Capital Corp, CITIC Securities and Shenwan Hongyuan.
Ucar recorded revenues of RMB1.7 billion and net loss of RMB3.7 billion in 2015, compared to revenues of RMB614,700 and net loss of RMB48.6 million in 2014, according to its prospectus.
Ucar's business model is different from rival Didi Chuxing, which allows private car owners to offer rides to users.
Ucar owns all of its cars and hires professional drivers, potentially putting it at an advantage if any tightening regulations on ride share are implemented in China.
(Update: Read the company's announcement here.)