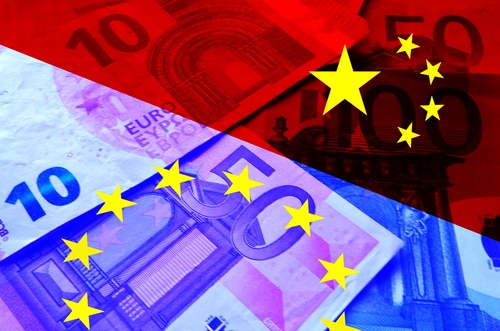 Mergers and acquisitions targeting China and Hong Kong slumped to US$108.9 billion in total deal value during the third quarter, the second lowest level since the fourth quarter 2014, according to a new MergerMarket report.
Similarly, M&A value during the first three quarters dropped 19.5% year-on-year to US$315.8 billion from US$392.3 billion, driven by a dramatic inbound deal decline to US$6.6 billion from US$30.9 billion last year, and a 14.4% drop of domestic M&A activity.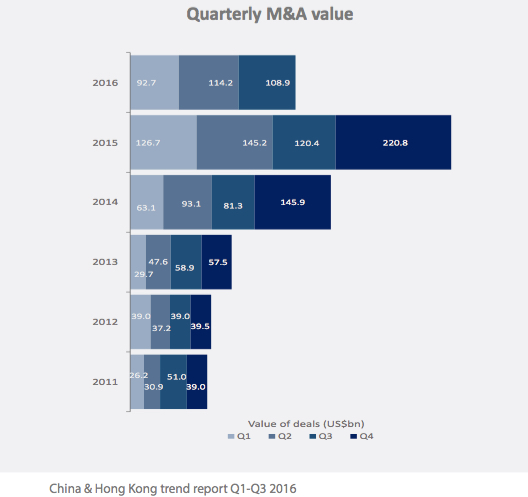 Industry consolidation among state-owned enterprises remains a strong driver of domestic Chinese M&A. China Petroleum Capital's US$11.3 billion spin-off to Jinan Diesel Engine and the US$8.7 billion merger between Wuhan Iron and Steel and Baoshan Iron & Steel were the biggest deals.
Take-private transactions of overseas listed Chinese companies have slowed, but Qihoo 360 Technology's long-waited US$7.2 billion de-listing from New York contributed to deal activity as one of the larger transactions.
Private equity exits jumped two times to US$34.2 billion compared to the same period last year, while private equity-related buyouts increased 41.7% to US$34.8 billion year-to-date.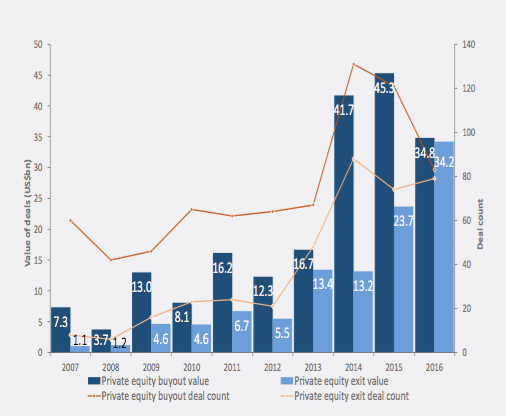 Deals in the technology sector became the biggest driver among private equity-backed buyouts, increasing to US$16 billion from US$10.3 billion last year.
A slowing economic growth and weakening currency continued to spur Chinese companies buying abroad, with US$171.7 billions among 342 deals recorded during the first nine months, almost doubling the previous annual record in 2015, which saw US$88.2 billion among 360 deals.
Industrial and chemicals was the most active sector with deal values totaling US$71.6 billion across 89 deals, mainly boosted by ChemChina's US$45.9 billion bid of Swiss agrochemical company, Syngenta.
Technology came in the second place with US$26.8 billion among 47 transactions. Financial services, which was the second most popular sector in 2015, saw a dramatic decrease of deals to US$2.7 billion among 23 deals year-to-date, down from US$17.7 billion among 15 deals last year.
Europe remains the most attractive region to Chinese buyers with total of US$73.8 billion deal activity taking place across 120 deals in the first nine months, a 138.8% jump year-on-year.
Despite Europe's strong showing, activity has eased since the U.K. voted to leave the European Union in late July. A total 37 deals were struck between Asian buyers of European companies in the third quarter amounting to US$5.7 billion, compared to pre-Brexit numbers when US$26.4 billion changed hands across 59 deals the second quarter.
The report warns that the Chinese outbound M&A splurge is likely to slow as Chinese authorities become increasingly concerned over capital outflows dressed up as overseas acquisitions.
This has prompted a stricter and more time-consuming vetting process on outbound transactions, and resulted in Chinese firms losing out on deals. A consortium of Chinese bidders, including Sinochem, dropped out of the bidding process last month from a US$4.4 billion deal to acquire German specialty chemicals maker, Atotech.