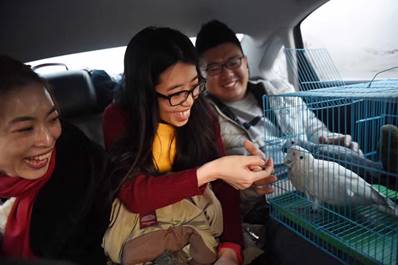 Chinese ride-sharing giant Didi Chuxing says its inter-city Hitch service, which matches drivers and passengers who share similar long-distance routes, booked 4.2 million passenger trips during the past Spring Festival holiday between January 13 and February 2, helping to ease the country's peak traffic season when 2.9 billion trips were made.
The volume of travel via Didi's Hitch services was four-times higher than during the 2015 holiday period, and is equivalent to adding an additional 5,874 eight-car high-speed passenger trains to the country's strained transportation supply, the company said today in a statement.
The majority of inter-city DiDi trips are under 300 kilometers, while around 5% extend over 1,000 kilometers.
On the Lunar New Year's Eve on January 27 at 10 p.m. until January 28 at 6 a.m., rides booked via DiDi Hitch sent up to 70,000 passengers home, with nearly 10,000 passengers offered free rides by car owners and 126,000 pieces of oversized baggage and 74,000 pets were transported.
Jean Liu, president of Didi Chuxing, said that DiDi expects to register 8.4 million passenger trips during this year's holiday rush via its Hitch service, which has over 2.8 million registered car owners.
The company also said that Shenzhen Airport launched China's first designated DiDi airport pick-up station and the first airport lane for ride-share services last month. Upon landing, riders may find directions from DiDi's in-app map to the pick-up location, making Shenzhen the first ride-share friendly airport in the country.