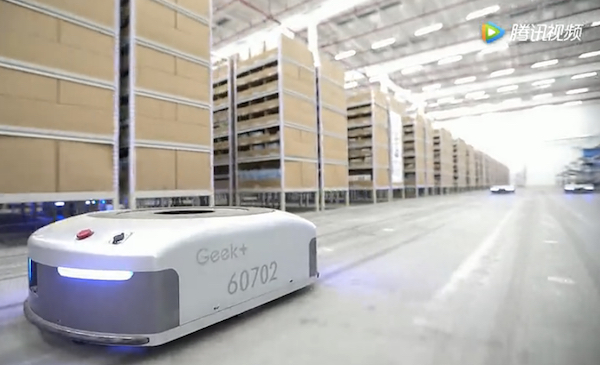 Vertex Venture Holdings Ltd, a wholly-owned subsidiary of Singapore's Temasek Holdings, has led a RMB100 million (US$14 million) series A+ round in Geek+, a Beijing-based logistics robot developer whose technology, similar Amazon's Kiva robot, is designed to improve automation at warehouses.
Banyan Capital and Volcanic Stone Investment, an investment firm founded by a former partner at IDG Capital Zhang Suyang last year, also participated in the round.
Founded in 2015, Geek+ focuses on the warehouse logistics sector, developing robots that can select, transport and sort packages or objects. Geek+'s robots are very much like Kiva Systems, a company that Amazon bought for US$775 million in 2012.
The box-shaped robots can move on its own, position under shelves to move objects and provide assistance to human workers on sorting packages.
Geek+'s products are used in a number of industries including e-commerce, retails, pharmaceutical companies and manufacturing. The company has partnered with over ten companies including Suning Commerce Group, and the most notably, Alibaba Group Holding Ltd.'s e-commerce platform Tmall. Geek+'s robots helped Tmall during its biggest annual shopping festival in 2015 to help sort millions of packages.
The company says that over 50,000 square meters of warehouse space have used its robot systems, with over 300 robots already in commercial use in China.
Labor costs take around half of warehousing and logistics spending for Chinese e-commerce companies, with high employee turnover of around 10% monthly. There will be expanding demand for logistics robots in China as companies seek to lower cost and stabilize labor work force.
The company previously completed a RMB50 million (US$7 million) series A round from Banyan Capital and Volcanic Stone Investment last May.
The start-up plans to use the proceeds to invest in research and development, as well as enhance it team and expand its businesses.