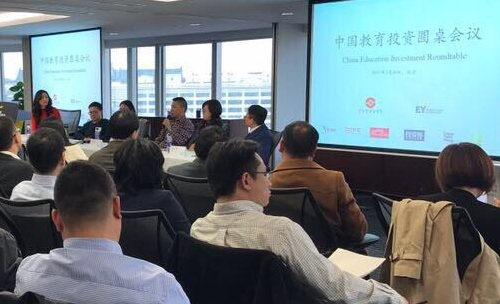 China Education Investment Roundtable 2017, hosted by China Money Network and sponsored by Ernst & Young, was successfully held on March 28 in Beijing.
The event gathered some of China's top investors, including Lihong Wang, Managing Director at Bain Capital, Eric Xu, Managing Partner at GGV Capital, Liu Xing, Partner at Sequoia Capital, and Christine Lang, Partner at Sinovation Ventures and Stone Shi, Principal at Baring Private Equity Asia, to discuss the current market condition and potential investment opportunities in China's education sector.
"We want to thank our distinguished speakers for taking the time to join us and for sharing a thought-provoking afternoon with fellow investors and education executives," said Nina Xiang, editor and co-founder of China Money Network. "The different backgrounds and investment strategies of each speaker created contrasting views and lively debate that were truly remarkable."
Around one hundred top Chinese investment professionals and education industry executives took part in the event and shared penetrating point of views, followed with a pleasant light drinks reception.
The investors showed great confidence in the country's education industry, and acknowledged that investment firms must work harder than ever to achieve decent returns despite abundant opportunities.
For more information of the event, please visit here.