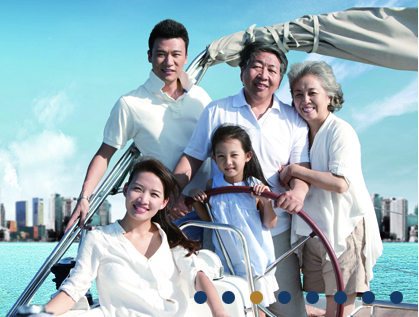 Ping An Insurance Group Co of China Ltd, the country's largest insurer by market value, is launching its first overseas fund to primarily invest in financial and healthcare technology globally, as China strives to transition its economy to one led by innovation and technology.
The Ping An Global Voyager Fund will initially raise US$1 billion and be managed from Hong Kong. The new vehicle will be led by Jonathan Larsen, a former Citigroup executive appointed as Ping An's chief innovation officer today.
The Shenzhen-based Ping An Insurance plans to fully invest the Global Voyager Fund in the next three to four years with a focus on early-stage start-ups, according to a disclosure filing today.
The vehicle will be responsible for bringing new technologies and business models to Ping An's businesses in China and internationally, leveraging Ping An's resources and network in China including 138 million customers, 1.2 million agents and 6,000 branches.
"Ping An is the most innovative financial group in China, and a leader in China's fin-tech and health-tech sectors," said Larsen in a statement. "I look forward to helping Ping An access global innovations in finance and technology and build a global presence in fin-tech and health-tech."
Ping An's subsidiary Lufax is China's biggest peer-to-peer lending and wealth management platform. Lufax is also looking to expand into Hong Kong or Singapore, its chief executive officer Gregory Gibb said earlier.
Ping An Good Doctor, a medical service app backed by Ping An, raised about $500 million in its maiden financing round last year with a valuation of US$3 billion. The insurer also has a venture capital unit backing start-ups in China.
Ping An had about 5% of its total insurance assets abroad as of December 2016, below the 15% cap imposed by China's insurance regulator, meaning it still has ample room to grow overseas assets.
The company has said that it plans to gradually increase its overseas investments to 10% over the next three to five years.
Ping An has RMB5.5 trillion (US$798 billion) in total assets, and achieved annual revenue of RMB774.4 billion (US$112.3 billion) and annual profits of RMB62.4 billion (US$9.1 billion) in 2016.