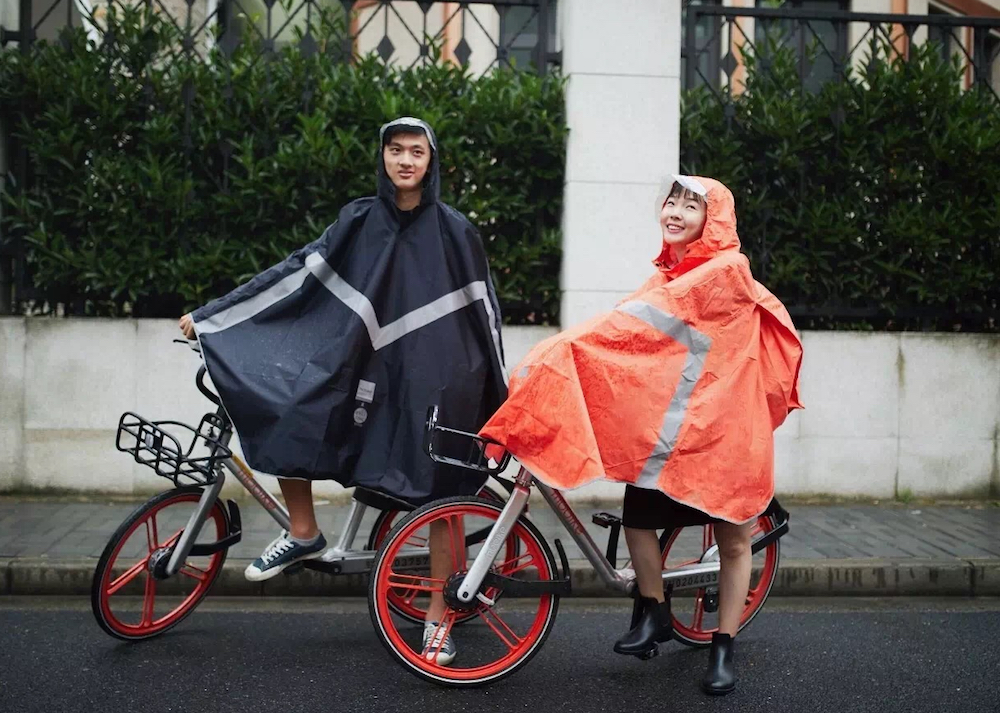 Shanghai-based bike sharing company Mobike has begin a trial to monetize its vast network of five million bikes around 100 cities globally by selling raincoats at RMB268 (US$39.5) apiece, in its first major attempt to make money outside of charging users for rides.
The company, which has raised nearly US$1 billion this year at a rumored valuation of billions of U.S. dollars, has relied on bike rental fees of RMB1 per half hour as the major source of revenue. It also charges deposits of RMB299 for each use of its bikes.
Davis Wang, chief executive officer of Mobike, posted on his WeChat account last night quoting a news release from the company's official account announcing that users can now purchase the raincoat on Mobike's Wechat store.
"Mobike is always trying new ways to support our community of users and make riding Mobikes a safe, fun and fashionable experience. It's summer, rain season in many cities, so a well-designed rain coat is needed for safe riding," the company said in a statement in response to an inquiry from China Money Network.
It remains to be seen if bike riders would buy such an expensive raincoat. At RMB268, it is nearly ten times more expensive than what is available in convenience stores and supermarkets. Mobike says it teamed up with independent designer brand exciTing to jointly design and produce the raincoat, which features reflective stripes and uses high quality fabric.
Investors have long argued that Mobike could monetize its over 100 million registered users in multiple creative ways, including posting advertisement on the body of the bicycles, much like buses or subways. But Mobike and its close rival ofo have so far not tested this strategy.
Last month, Mobike raised over US$600 million in a series E financing round led by Tencent Holdings Ltd., with participation from Sequoia Capital, TPG, Hillhouse Capital, BOCOM International, ICBC International and Farallon Capital.