In case you haven't heard, the next "big thing" after bike sharing has arrived. Welcome to the age of cashier-free convenience stores, the latest craze among venture capitalists in China. Since the launch of Amazon Go, the U.S. e-commerce giant's retail store that requires no cashiers and no check-out, the concept has been quickly adopted in China and taken to a whole new level.
Just two months after Amazon Go's debut in December, there were four or five Chinese copycat companies in operation. Two have already received significant venture funding. Last week, cashier-free convenience store company Bingobox received over RMB100 million (US$14 million) in a series A financing round led by GGV Capital, with Qiming Venture Partners, Source Code Capital and Ventech China also chipping in. A week before that, a similar start-up named F5 Store completed a RMB30 million (US$4.4 million) series A+ round from Sinovation Ventures.
Not only are Chinese start-ups and venture capital firms quick to "copy", they are super fast in going to market. Bingobox has opened eight convenience stores in Guangdong province and Shanghai since last August. It plans to open 5,000 more stores within a year. F5 Store, with six stores currently, plans to open 30 to 50 shops in the next three to six months.
Following close behind the Chinese start-ups and their VC backers is e-commerce giant Alibaba Group Holding, which showed off its own version of cashier-free convenience store, called Taocafe, in a test run during its Tao Maker Festival over the weekend in Hangzhou.
"This is just a start. We don't know the exact path of the retail revolution, however, we believe it's happening," Eric Xu, managing partner of GGV Capital, told China Money Network. "The adoptions of new technologies to the industry could be very fast in the next three to five years. The common sense of the business and financial model will also be reshaped."
Despite the rapid adoption of the Amazon Go concept, it's important to recognize how different these "copycats" are from the original. For one, they currently can't match Amazon's technology.
Amazon Go's seamless shopping experience is powered by computer vision, image tracking and most importantly, intelligent retail shelves that identify products taken off the shelf and adds them to shoppers' virtual shopping carts. Any items returned to the shelf are automatically removed from the virtual shopping cart. Together, these technologies enable consumers to step into the store by scanning their phone and logging into their Amazon account, take anything they want, and just walk out.
Lacking Amazon's technological prowess, both Bingobox and F5 Store have devised different, lower-tech solutions to produce cashier-free stores. Bingobox requires shoppers to manually place the goods they want in a cashier area, arranging them neatly to allow a fixed machine to scan the items. This generates a check-out price sheet for consumers to pay.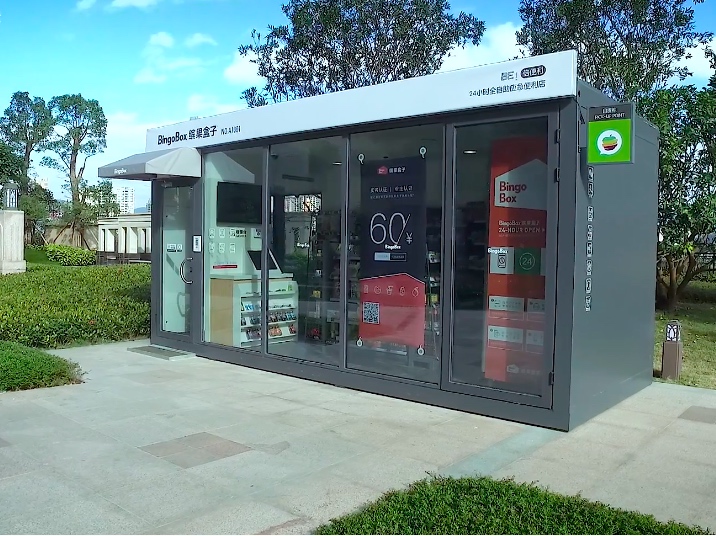 (The first Bingobox placed in Shanghai)
F5 Stores operate more like high-tech vending machines. Shoppers interface with a computer screen displaying pictures of products. After making their choice, they click and pay for their goods, very much like how one would self-order at McDonald's. A vending machine then dispense the item onto a special table. Since items sold include snacks such as instant noodles and soups, a mechanical arm periodically appears to clean the table for the next customer.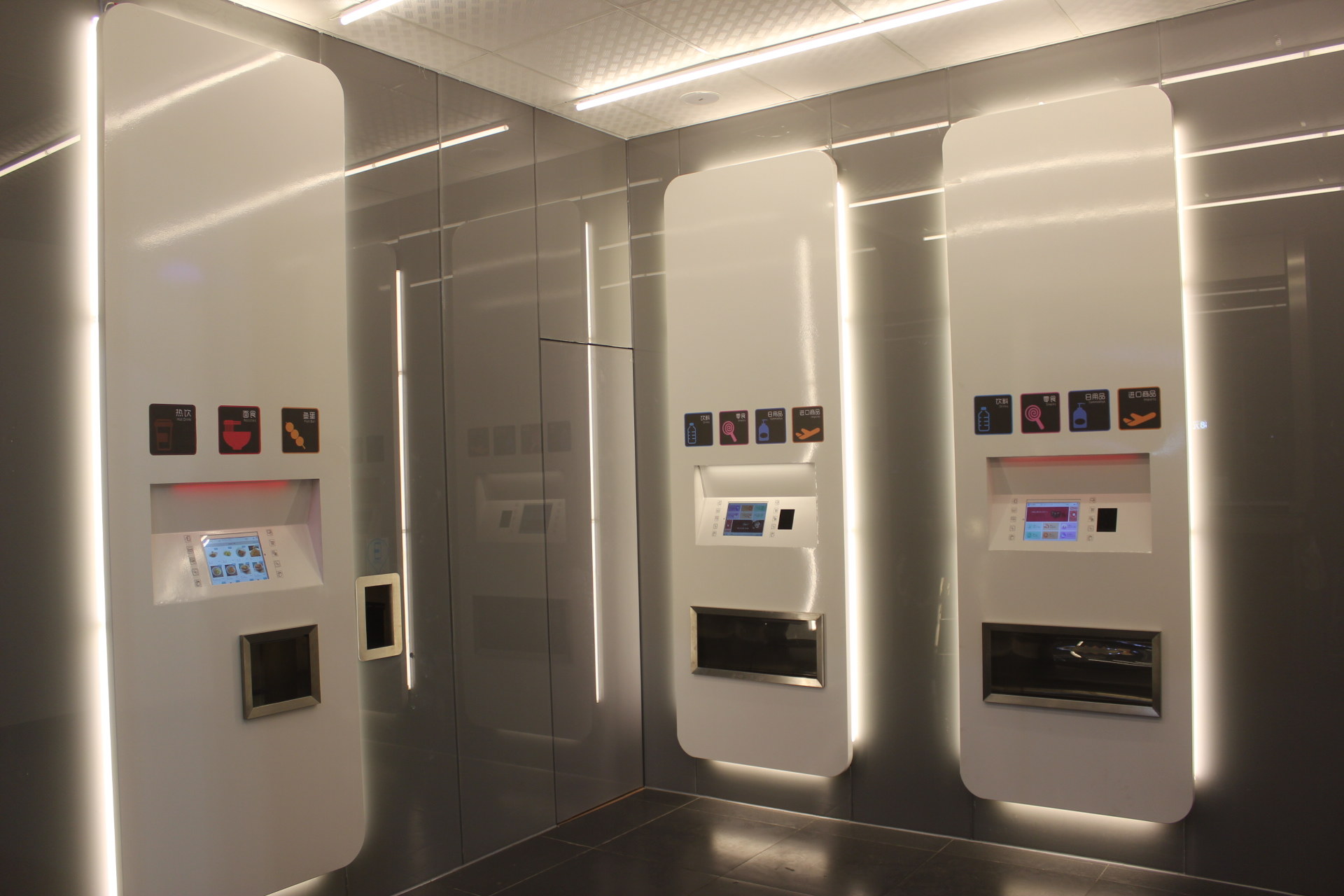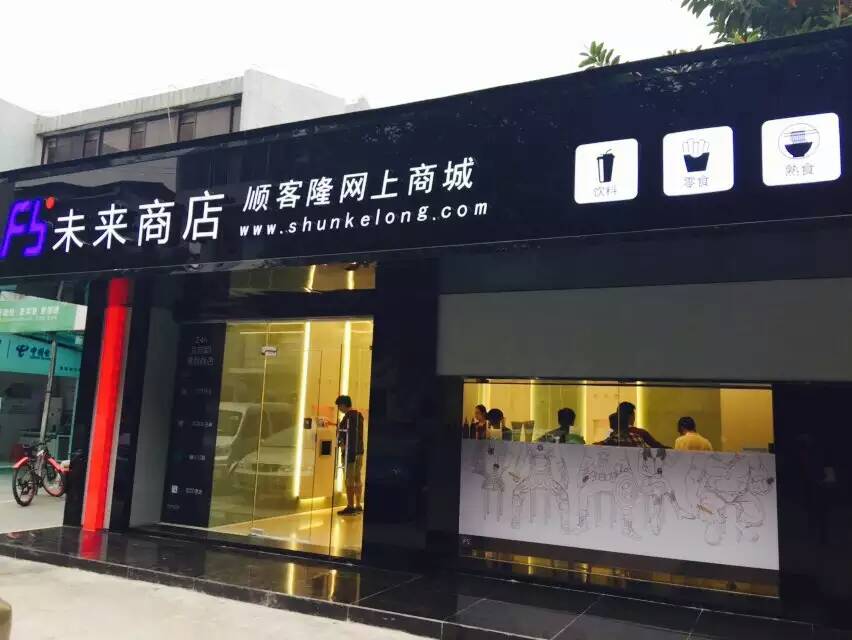 (F5 Store, inside and view from the street.)
Alibaba's Taocafe is the closest recreation of Amazon Go. It utilizes computer vision and facial recognition to identify the products and the shopper. It does not, however, have intelligent shelf technology, which means shoppers must stand in a special exit area to let machines scan the products and their face to complete the payment process.
A Visit To Alibaba's Taocafe

The fact that China's Amazon Go copycats lack the sophistication of the original may indicate that the U.S. maintains a significant leads over China in terms of artificial intelligence application and other smart hardware tech. But it could also mean that the different cost structures of retailing in China and the U.S. has simply led the companies to make different approaches to the same challenges.
"Computer vision-based solutions such as Amazon Go comes with very high costs. It will achieve the objective of improving user experience, but will not fundamentally optimize retail costs and efficiency," said Meng Xing, entrepreneur-in-residence at Chinese venture firm Shunwei Capital. "There are many ways to optimize retail efficiency, including methods that require a very small degree of human involvement."
For example, Bianlifeng, a cashier-free convenience store backed by CC Zhuang, founder of Chinese online travel search portal Qunar.com and venture firm Zebra Capital, operates in a hybrid model. Despite its cashier-free moniker, shoppers can in fact interact with a human cashier if they chose to.
China currently has less than 30,000 branded convenience stores, compared to Japan's 150,000, indicating great growth potential in this market. So venture capital firms have been backing convenience store start-ups with fervor, with I Believe, Huimin and Qiandama all closing significant financing rounds in the past eight months.
There is little doubt that retail will soon become smarter, more efficient and require a lot less involvement by humans. But it remains to be seen which technology and business model will become the ultimate winner. With or without people, stores need to be profitable. Saving labor cost is only one of many challenges retailers need to consider to achieve that ultimate goal.