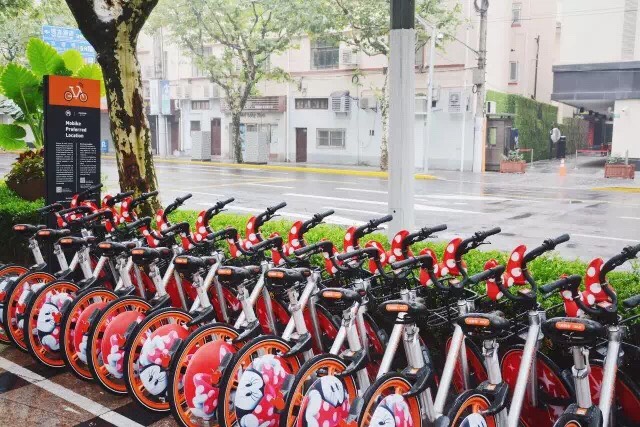 The much anticipated use of shared bikes as advertising platforms is here: Mobike has partnered with Shanghai Disney to promote deals at the amusement park's official store in the city.
As part of the agreement, the Shanghai-based bike sharing pioneer, valued at US$2 billion, has placed a small number of Micky and Minnie Mouse-themed bikes around the city, with more expected soon. Users of these bike receive discount coupons that can be used at Shanghai Disney's soon-to-be-opened gift store on Nanjing Road.
It is unclear how the two parties are working together, but it appears likely that Mobike and its peers will seek to generate more revenue from advertising in the future. Mobike did not immediately respond to inquiries from China Money Network to comment.
With Mobike's US$2 billion price tag (the 166-year-old New York Times, by comparison, has a market capitalization of US$3.1 billion), there has long been questions on how the company can generate significant revenues and profits. The company charges only RMB1 (US$0.15) per 30 minutes to ride its bikes.
Ads are considered a natural choice to monetize Mobike's vast user base of over 100 million registered users and over 25 million rides daily. The company has over six million bikes in over 150 cities across five countries. With the massive number of eyeballs that can be reached, Mobike can charge premium prices for carrying ads on the bikes themselves or on its mobile app.
E-commerce is another area where Mobike has tried to generate more income. Last month, the company started selling raincoats at RMB268 (US$39.5) apiece at its WeChat store in its first attempt to make money via e-commerce.
Some other potential revenue streams include the controversial idea of generating investment returns on the deposits bike sharing companies collect. Mobike and ofo, the two leading bike sharing companies in China, hold billions of RMB worth of deposits from users. The risk is that expected regulatory oversight might eliminate this option all together.