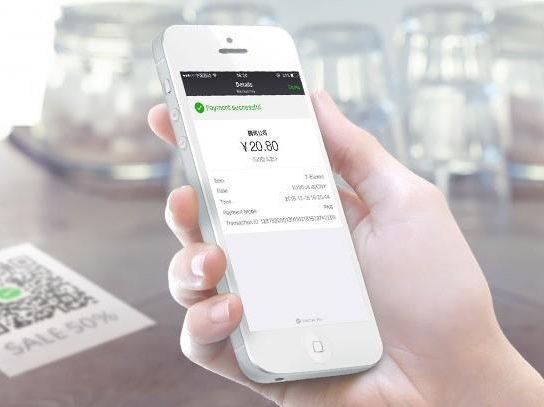 Apple Inc. has accepted Wechat Pay for payments made in its App Store and music platform, after it accepted Alibaba's Alipay as a mobile payment option for purchases conducted within its ecosystem. The action will likely drive up Apple's revenue in China from in-store and music spending, as the U.S. tech giant continues to adjust its strategies for a fast-moving Chinese market.
"We are glad to offer users in mainland China the option of WeChat Pay for their favorite mobile app or Apple Music products. We continue to be dedicated to provide multiple simple and convenient payment methods for customers within the Apple ecosystem," Apple said in an official statement today.
Behind the official announcement lays the embarrassing fact that Apple Pay, which the U.S. tech giant launched in mainland China in early 2016, has failed to make any progress in one of its most critical markets.
At the end of the first quarter this year, Alipay had a 53.7% market share in China's third-party mobile payment market, while WeChat Pay held a 39.51% stake during the first quarter this year, according to data from Analysys. Apple Pay, nearly 20 months after entering the Chinese markets, did not take any meaningful market share from rivals. It still only has around 1% of the Chinese third-party mobile payment market.
Apple's acceptance of WeChat Pay in its App Stores and Apple Music platforms is a pragmatic one, indicating that Apple perhaps has given up hope for its Apple Pay to make any significant progress in the future. On the other hand, Alipay, which was accepted as a mobile payment option for Apple's Music and iCloud services last November, was credited as having secured more paid users for Apple. Earlier this month, Apple said paid users for its Apple Music and iCloud in China has increased 12% to 185 million over the past 90 days. That user increase also led to significant revenue growth for Apple.
WeChat's win at forcing Apple to accept it in the Apple ecosystem represents Tencent's growing influence. The tug of war between Apple, with a US$815 billion market capitalization, and WeChat, China's social media leader with 963 million users and a market cap of US$378 billion, has been intensifying this year.
At the beginning of 2017, Apple reportedly was able to reject WeChat's attempt to launch a mini app function within its social networking app, concerned that the Wechat mini app will eventually erode the Apple ecosystem. WeChat had to use a different name, mini program, in the end.
In April, WeChat shut down a popular function in its mobile app to allow readers to offer cash gifts to articles and authors they like and support. The change was made because Apple insisted that this cash gift constitutes an in-store purchase, and therefore Apple must take a portion of the revenues. Until today, the dispute is still unsettled, and the iOS version of WeChat still does not support the function.