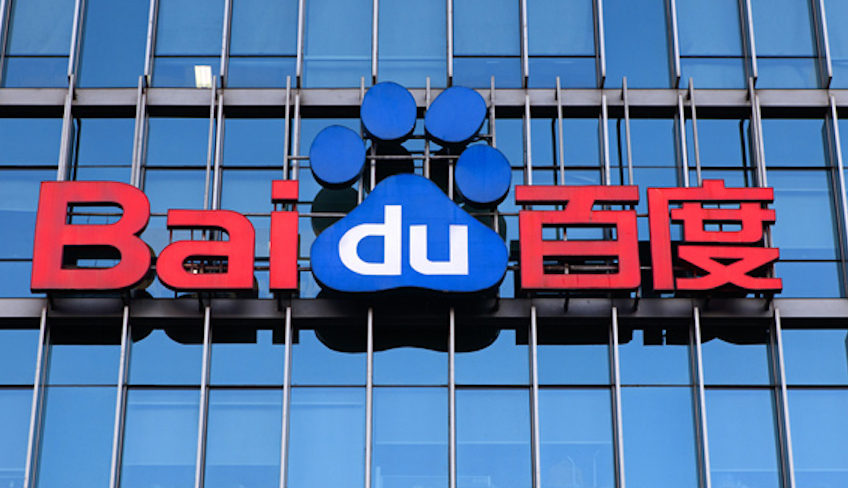 CT Weekly is a newsletter summarizing major recent developments in China's tech sector published by China Tech Insights, an industry research project established by Tencent Online Media Group. China Money Network is re-publishing the newsletter under an agreement with China Tech Insights.

Baidu's newest gadget translates speech in near real-time
Baidu, China's biggest search engine, has unveiled a translation device on Sept.19.
The portable gadget, which weighs as much as a smartphone, was revealed Tuesday at the 16th Machine Translation Summit in Nagoya, Japan. Using a deep learning model called neural machine translation which can significantly reduce errors, the device can translate the speech in near real-time, Wu Hua, a senior scientist at Baidu said during a talk at the summit.
As users speak to the handheld device, their speech is translated almost instantaneously. Currently,the yet unnamed product supports Chinese, English, and Japanese, and it can also be used as a Wi-Fi hot spot in more than 80 countries — another useful feature for travelers.
Baidu has not announced a price for the device, though Wu confirmed that it will go on sale later this year in China and in early 2018 in Japan.

Dentists in China successfully used a robot to perform implant surgery without human intervention
A robot dentist has carried out the first successful autonomous implant surgery by fitting two new teeth into a woman's mouth, mainland media has reported.
Despite the presence of human medical staff during the operation, they only gave assistance when necessary. The one-hour procedure took place in Xi'an, Shaanxi, on Saturday, according to Science and Technology Daily. The implants were fitted to within a margin oferror of 0.2-0.3mm, reaching the standard required for operation of this type,experts said.
The technology was designed to make up for the shortage of qualified dentists in mainland China and frequent surgical errors.
Google and HTC sign $1.1B USD cooperation agreement to boost Google's hardware game
Google and HTC have entered into an agreement where certain HTC employees will join Google. As part of the transaction, HTC will receive $1.1B USD in cash from Google. Google will also receive non-exclusive license for HTC's intellectual property. HTC says many of the employees have worked with Google to develop the Pixel smartphones.
This is seemingly part of the search giant's new hardware strategy, which is why it ended up acquiring part of another smart phone maker, despite having previously acquired and then divested itself of Motorola's mobile business.
Sources had reported that the reason share trading was halted on September 21st was because of a major pending announcement, and a VentureBeat report included an internal invitation for HTC staff, to an all-hands meeting at which the news would be announced.

Alipay opens up its mini program to users for beta tests
After WeChat sees some success with its mini programs,its major rival Alipay is in no position to fall behind. Alipay, run by Alibaba's spin-off Ant Financial, announced on Wednesday the beta test of its own mini programs for regular users after opening up for developers a month ago.
Both ofo, China's leading bike sharing company, and UrWork, China's co-working space unicorn, have developed their own Alipay mini programs.
Mini programs are a slew of various light-weight apps that sit inside the apps, often incorporated with WeChat's and Alipay's mobile payment methods. Just like WeChat, Alipay doesn't require users to download anything.
However, what makes Alipay stand out is its various built-in features. Alipay comes naturally with its Sesame Credit system, identity certification feature and financial tools affiliated with Ant Financial, which the mini programs can make use of.

JD.com announces $500M e-commerce and fintech joint ventures in Thailand
Following on from Alibaba's $1 billion deal with Lazada and a $1.1 billion round in Tokopedia led by Alibaba,rival Chinese e-commerce firm JD.com has announced a $500 million investment that will create e-commerce and fintech businesses in Thailand.
Southeast Asia, a region of 600 million consumers, is forecasted to see its internet economy grow to $200 billion by 2025, thanks to rising Internet access. That has potentially attracted investment dollars from Chinese giants like Tencent and Alibaba, and now JD.com is upping its own efforts.
The deal is JD.com's will initially set up shop in Thailand, and then expand more widely in Southeast Asia. It set up shop in Indonesia in 2015 and has shown an interest in two of the country's most prominent startups. It was involved in talks around a possible deal with Tokopedia — which didn't materialize — but it has closed a deal to invest in Go-Jek. according to sources with knowledge of negotiations.

Baidu sets up $1.5b fund as it races toward autonomous cars
Chinese tech giant Baidu has set up a US$1.5 billion fund to invest in autonomous driving technology created by startups, it announced today.
The aim is to invest in over 100 projects as Baidu seeks to bolster the self-driving car tech it started working on since 2014.
Today Baidu only revealed the size and scope of its Apollo Fund – named after its automotive project –but the war chest seems to have been active for quite a while, as seen in the US$150 million that Ford and Baidu invested into LIDAR maker Velodyne in mid-2016 to develop more affordable sensors.
Chart of the Week
For those Chinese customers who no longer use iPhones, Huawei is the biggest beneficiary.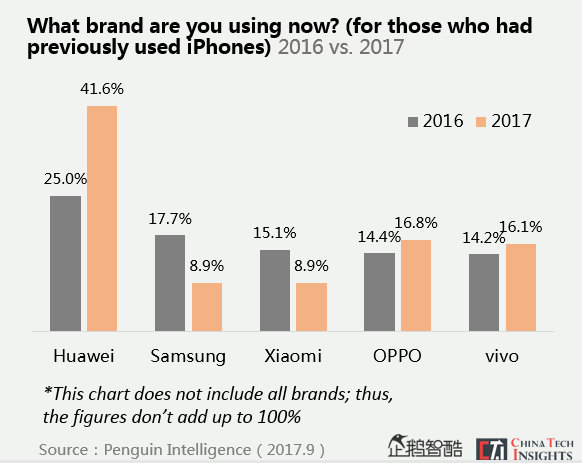 (This article is originally published at China Tech Insights. Follow China Tech Insights on Twitter @CNTechInsights.)