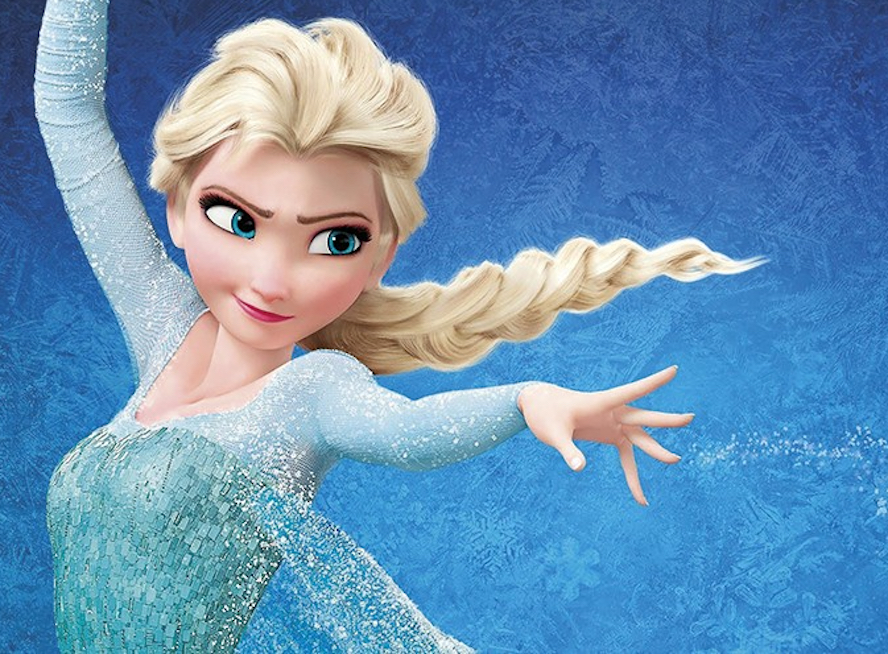 China's 200 million children under the age of 14 have a new lesson to learn: censorship.
Princess Elsa, the Snow Queen in Walt Disney Picture's immensely popular animated film Frozen, appears to have been banned, apparently due to security concerns. Peppa Pig may also be on Beijing's blacklist.
With the magical power of turning water into ice, Princess Elsa has become one of the most high profile icons for young children since the movie came out in 2013. The character has been the subject of perhaps millions of videos in China alone, both user-generated or professionally produced. Yet as of last week, Elsa has magically disappeared from the Internet in China.
A search of the term "Princess Elsa" in Chinese on China's top three video portals, Tencent Video, iQiyi and Youku, controlled by tech firms Tencent Holdings, Alibaba Group and Baidu Inc., found no results except a stark message saying "results are not shown according to relevant laws and regulations."
"All of our Princess Elsa videos have been blocked since last week," a video producer who requested anonymity told China Money Network. "Those videos have been our most popular ones and have at least tens of millions of views."
Screenshots Of Tencent Video, iQiyi and Youku's Search Result Page When Searching "Princess Elsa"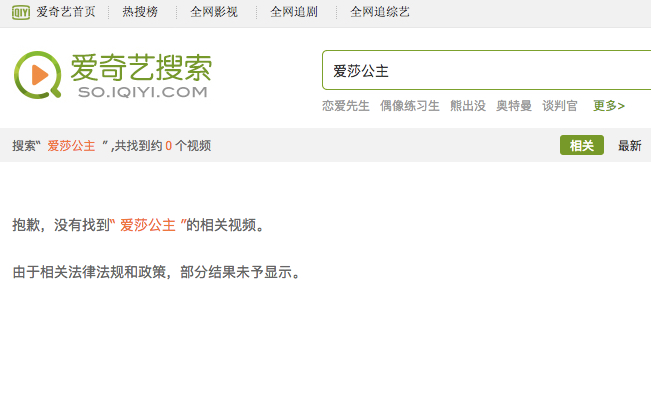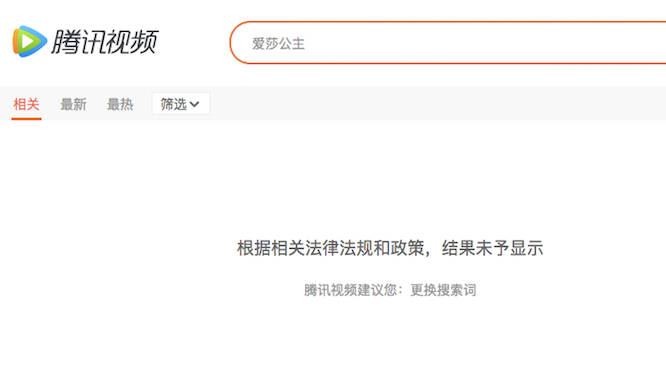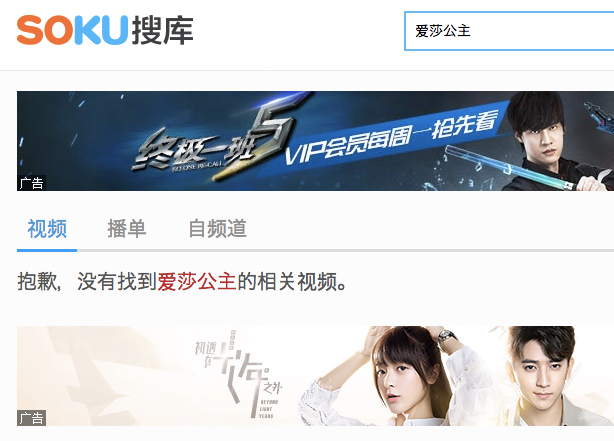 An employee at one of the three video platforms told China Money Network that authorities ordered online video portals to take down videos relating to Princess Elsa. The authorities said that many cult and terrorism videos have been found to use Princess Elsa to mask their content, prompting the ban, according to the video company employee. The company is hoping that the ban will be temporary, but there is no indication when it will be lifted.
Other animated figures may also face a crackdown, including Peppa Pig, the British TV series popular in China. But a search on Tencent Video and iQiyi still turned up videos for Peppa Pig, though they appear to be of lower quantity than usual. Only official videos of Peppa pig were found on Youku.
Beijing has hardened censorship online during the past few years. It closed down dozens of live video streaming portals and mobile apps due to concern over pornographic content last year. Baidu and Weibo joined the government in launching programs to identify and dispel online rumors before last year's important political meetings last fall. Chinese news aggregation and personal recommendation platform Toutiao, the US$20 billion company, also implemented changes including hiring Communist Party members to appease regulators.
As of June 2017, users opened online websites and mobile video apps of Tencent Video, iQiyi and Youku. 37.7 billion times, or 62% of total usage, according to Chinese media company Caijing. China has 500 million users of online video sites, of which 67% use video mobile apps. In 2016, a total of RMB27 billion were spent producing online video content in China, up 125% year-on-year, according to a research report by Qianzhan.