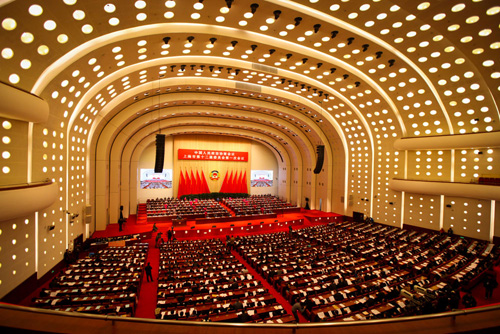 Chinese Premier Li Keqiang's took to the stage at the annual gathering of Chinese People's Political Consultative Conference (CPPCC) members and laid out a vision of the Chinese economy based on artificial intelligence. Corporate China also joint in the AI chorus.
Li's two-hour speech, along with the 2018 government work report presented, called for expanded use of AI applications in  medical services, care for the elderly, education, culture and sports, as well as pushing the "Internet plus" business model, or the application of the Internet to traditional industries.
The 36-page document stressed innovation (the word "innovation" appears 55 times) and the use of Internet plus initiatives to promote big data, cloud computing and Internet of things. He also encourages Internet+ agriculture to increase the income source of farmers.
But artificial intelligence was the recurring theme throughout the speech. The year 2017 saw the publication of three state-level documents that outlines the strategic importance of AI and development plans for AI. Li made it clear that 2018 would see a continuation in that direction.
In order to promote AI and the Internet, the report outlined plans to reduce Internet rates to speed up broadband use and to achieve full coverage of high-speed broadband in urban and rural areas. It also mentioned the expansion of free Internet access and the cancellation of domestic data roaming charges to cut mobile data rates by at least 30% to boost the digitization of the nation.
Corporate China has also been using the occasion to press for wider use of AI.
Baidu's CEO Robin Li and Lenovo's CEO Yang Yuanqing, both CPPCC members, submitted separate proposals on AI. This year's annual meeting have seen more tech entrepreneurs than ever being selected as Chinese People's Political Consultative Conference (CPPCC) members.
Meanwhile,  Shenzhen-listed iFlytek announced that in partnership with Tsinghua University they had launched an "AI-general practitioner system" in a community hospital in East China's Anhui province. The system called "AI doctor assistant" can listen to doctors diagnosing inquiries with patients and automatically produce e-documents for patient case reports.
Face++ also issued a statement praising the Premier's speech, and then talked about Face++'s AI achievements in security products and mobile phone technology.
China recorded US$40 billion in venture capital investment deals in 2017, a 14.3% increase from US$35 billion in 2016, buoyed by a flurry of massive investment in artificial intelligence and automobile technologies in the fourth quarter, according to a report by KPMG.