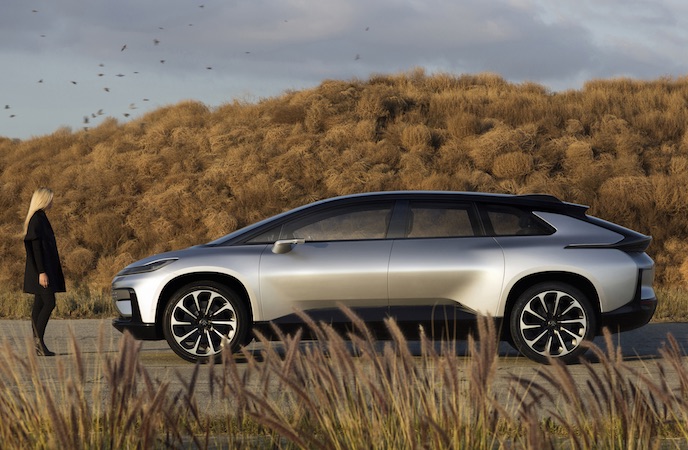 Faraday Future, the U.S.-based electric car start-up founded by embattled Chinese entrepreneur Jia Yueting, appears to be expanding in China. This comes despite downsizing at its U.S. operations and the collapse of Jia's China-based conglomerate LeEco. 
Since the start of the year, Faraday Future has published five job posts on its WeChat accounts with more than 200 positions, mostly based in Shanghai and Beijing. The positions range from research and development, to logistics, car manufacturing, administration, human resources, financial and legal. About 60% of the positions are manufacturing related.
A job post published on March 9th listed about 100 jobs related to car manufacturing, including automotive chassis, vehicle control, interior design and automotive assembly.
Meanwhile, a Faraday Future affiliate has been set up in Guangzhou. Ruichi Smart Vehicle Ltd., registered with US$300 million with Guangzhou Nansha Market And Quality Supervision Bureau on February 12th. The shareholder of the firm is Smart Mobility (Hong Kong) Holding Ltd., previously called FF Hong Kong Holdings Ltd. Smart Mobility holds 95% shares of Faraday Future China.
It is unclear what if any financial stake Jia Yueting holds in the Chinese affiliate. Faraday Future hasn't immediately responded to China Money Network's email seeking comments.
According to local media reports, Ruichi Smart Vehicle may be in the process of acquiring industrial land in Nansha, near Guangzhou. Guangzhou Land Resource and Planning Committee auctioned a piece of land of about 400,000-square meters that was designated by the government for use by an international electrical vehicle manufacturer with registered assets of more than US$300 million. Chinese local media has speculated that the land is reserved for Faraday Futures since Tesla has previously denied they acquired the land.
Last August, the company scrapped plans for a US$1 billion factory in Nevada and opted for a smaller facility in Hanford, California, an agricultural town roughly half way between San Francisco and Los Angeles. Staff levels at its Los Angeles headquarters has fallen by more than 25% in less than a year, based on statistics gathered by Linkedin.
Shares of LeEco's publicly traded unit Leishi went into free fall after it resumed trading in January.  Shares stood at RMB5.51, compared to RMB15.33 before the trading halt. Last December, China's securities regulator ordered Jia to return to China to pay his debts, but Jia instead sent his wife and brother while he stayed in the U.S.
Jia recently appeared at a meeting with suppliers at Faraday Futures U.S. headquarters in Los Angeles.