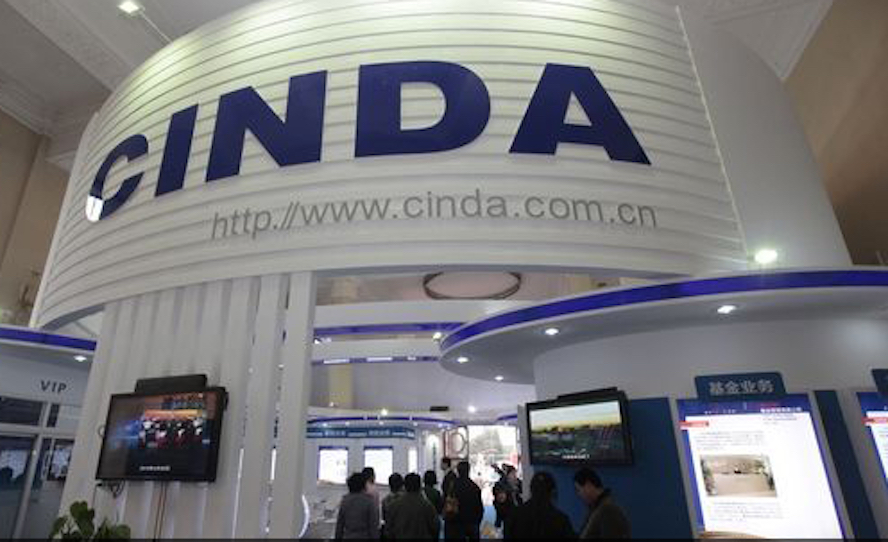 China's Big Four AMCs (Asset Management Company) have all published their operating performance of 2017, after China Huarong Asset Management Co., Ltd. and China Cinda Asset Management Co., Ltd. reported their results in Hong Kong last week.
According to the figures released, the Big Four AMCs have achieved steady asset growth and consistent double-digit growth of net profits during 2017. The Big Four AMCs currently managed a combined over RMB5 trillion (US$796 billion) in assets, while each company has secured net profit growth of over 15% year-on-year, according to their performance reports.
In 2017, China Huarong handled NPLs worth around RMB935 billion, up 48.7% compared to the beginning of the year. It recorded revenues derived from NPLs of RMB69 billion, which accounted for 53.8% of its total revenue. China Huarong has a dominant position in the Chinese NPL market with a market share of 52.6%, according to Chinese state media reports.
China Cinda, which was the first among the Big Four AMCs to complete shareholder reform, introduce strategic investors and achieve a public market float, handled RMB135.5 billion in new NPL businesses than last year, or up 29.6% year-on-year, and registered RMB45.3 billion in operating income from NPL management business, up 41.2% year-on-year.
China Great Wall Asset Management Co., Ltd., which has completed shareholder reform and is the middle of raising strategic capital, spent RMB62 billion more in 2017 to acquire various types of financial distressed debts assets, up 16% year-on-year. The company spent RMB49.9 billion more to purchase non-financial distressed debt, which refers to assets other than NPLs and other type of financial distressed debt assets, up 295% year-on-year.
According to the annual reports published by Chinese commercial banks earlier, Chinese financial institutions have witnessed significant improvement in asset quality, driven partly by their strengthened effort to dispose non-performing loans (NPL) on their books, mostly to Chinese AMCs. Another driver was due to the increased amount of accounts receivables of enterprise accounts, as they go through the "deleverage" process as advocated by Beijing.
An emerging trend among China's AMCs is that they are moving from buying-and-selling of NPL portfolios from banks in the past to a more diversified business mix. The Chinese AMCs are now buying NPLs from banks, while also acquiring distressed assets from stressed corporations, with a focus to deepen their expertise in the latter in order to help vitalize enterprises directly.
The Big Four AMCs are also transitioning from just buying-and-selling of NPL portfolios to providing a more comprehensive, multi-dimensional solutions to enterprises. They are also actively embracing the Internet to broaden NPL disposal channels and maximize value extraction from distressed companies.
For example, China Huarong was approved in February to set up China's first domestic distressed asset online transaction platform operated by a Big Four AMC, which broadened how distressed assets can be transacted by AMCs in China. Chinese e-commerce firm Alibaba's online shopping site Taobao previously launched an online distressed asset trading platform, in addition to a number of independent online portals with similar offerings.
At the same time, the Big Four AMCs are actively participating in debt-for-equity swap deals, as directed by Beijing's latest policies.
China Cinda executed eight debt-for-equity swap deals with a total value of RMB10.5 billion last year, including deals involving troubled companies such as China Shipbuilding Industry Co., Ltd, Huainan Mining Industry and Xichang Mining Co., Ltd.
China Cinda also initiated a RMB50 billion Deleverage Fund to build a diversified capital platform to attract private capital to participate in debt-for-equity swap deals.
China Huarong, on the other hand, executed seven debt-to-equity swap transactions last year. The firm is also in preparation to establish a RMB10 billion M&A Fund earmarked for debt-for-equity transactions.
China Great Wall has cumulatively committed RMB3.5 billion to help the implementation of four debt-for-equity swap deals, including one involving China Railway Materials Co., Ltd.
China Orient is also pushing ahead for its own debt-for-equity swap businesses by signing agreements with China Shipbuilding Industry Co., Ltd. and Dalian Shipbuilding Industry Co., Ltd. in August 2017 to help execute debt-for-equity swap deals for these companies.