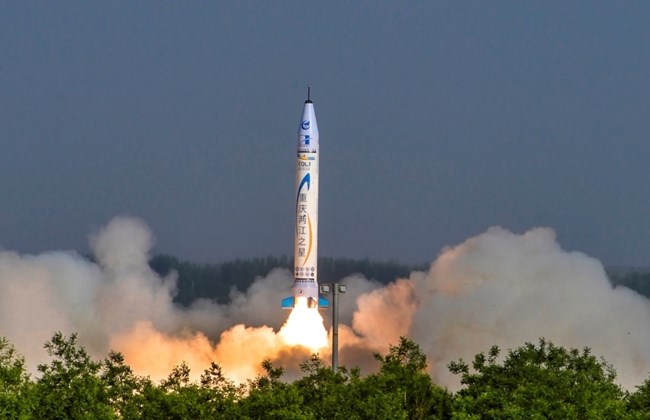 Chinese rocket start-up iSpace has completed a series A round led by Matrix Partners China, bringing its total financing to RMB600 million (US$90.4 million) in this year, according to Matrix Partners' announcement on its official WeChat account.
Founded in 2016 by Peng Xiaobo, a former research director at China Academy of Launch Vehicle Technology, iSpace provides commercial launchers to micro satellite manufacturers, operators, research institutes and universities in China and abroad. Its products include small solid fuel rockets, reusable liquid fuel rockets and sub-orbital spaceflights.
It has research centers in Beijing and Xian. In April, it has launched its Hyperbola-1S, a small solid fuel rocket. The 8.4 meter and 4.6 ton single stage test vehicle was launched from Hainan in a range of 108 kms.
"iSpace focuses on liquid oxygen and methane engine, which is the new direction of space industry," said Michael Zuo, partner at Matrix Partners. "The company's founder Peng Xiaobo is a aerospace expert with in-depth understanding of technology and great leadership. Tech media always talk about SpaceX, we hope China will also have a great space start-up in the near future."
While the funding amount of this round is undisclosed, the proceeds of this round will be used for research and development of launcher vehicles, liquid oxygen methane engines, construction of its assembly base and expansion of its team.
The space industry in China was the sole domain of state-owned research agencies and the military until 2014, when private companies were allowed to build and launch satellites. The move stems from government's goal of building China into a "space flight superpower," and allow iSpace and other private launch companies in China to follow the footprints of U.S. rivals SpaceX and Blue Origin LLC.
iSpace's other investors include Shunwei Capital, Fosun Group, Shanghai Rising Fund Management, Jiutai Lanshan Investment Management, Shuairan Investment, Citic Juxin and others.
Matrix Partners China is the local affiliate of the U.S. venture capital fund that has invested in technology companies such as search giant Baidu Inc. and ride-hailing operator Didi Chuxing.