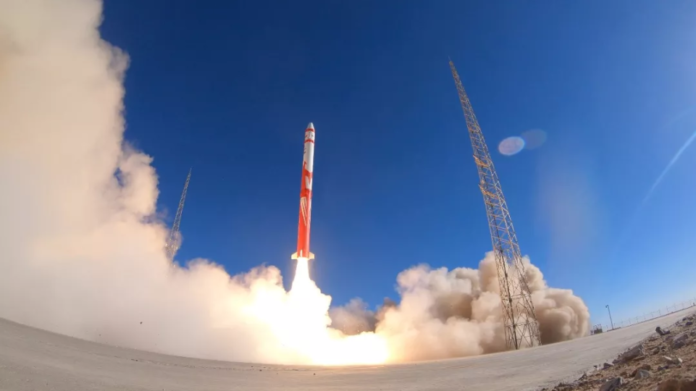 China's private space launch business has encountered a setback as Chinese rocket maker LandSpace failed in an attempt to become the country's first private firm to orbit a satellite in north-central China's Gansu province on October 27.
The three-stage rocket, namely Zhueque-1, failed to deploy a spacecraft called Weilai-1 in the correct orbit, after lifting off at 4:00 p.m. local time from a mobile platform at the Jiuquan Satellite Launch Center (JSLC) in Gansu.
The launch of Zhuque-1, named ironically after the "vermilion bird" from Chinese mythology that represents fire, went as expected in the separation of the first and second stage, as well as the payload fairing. The rocket's third stage, however, did not manage to succeed.
LandSpace did not disclose any detailed information about the failure, but only said that "the cowling separation was normal but something abnormal happened". Some Chinese reports said that the failure of attitude control on the third stage led to the loss of the spacecraft, which made it unable to reach the planned sun-synchronous orbit (SSO).
"Zhuque-1 has actually accomplished all its missions before the flight," said LandSpace in a statement released on its WeChat official account on October 27. The company said that Zhuque-1 has helped it grasp all elements in developing rockets including manufacturing, launching and systematizing the whole procedure.
LandSpace launched Zhuque-1 at a time when Beijing is boosting the country's national space program with an ambitious lunar mission in late 2018, a future space station, and Mars landing by 2021.
Concerning the country's commercial rocket sector, Chinese authority has also started embracing private capital to invest in building, launching and operating commercial satellites since late 2014. The field till then was developed by state-owned companies.
LandSpace is among a dozen of private Chinese space firms that have kick-started their businesses and launching plans in recent years. LandSpace's Chinese peer iSpace has successfully launched its Hyperbolic No. 1 (SQX-1Z) commercial sub-orbital rocket in early September.
Another Chinese rocket start-up OneSpace, which raised RMB300 million (US$44 million) in August, also claimed to have launched the first private suborbital rocket earlier this year.
Zhuque-1, also known as LandSpace-1, is a 19-meter-tall three-stage 19-meter-tall solid-propellant rocket. The spacecraft Zhuque-1 meant to send into space, Weilai-1, is a small satellite for space science experiments and remote sensing developed for state-owned television broadcaster China Central Television (CCTV).
The company initially scheduled to conduct the mission on October 14 from the Wenchang Spacecraft Launch Site in southern China's Hainan province. But the launch was deferred to Jiuquan due to the bad weather condition expected for its planned launch day.
Founded in 2015 by Tsinghua University, Beijing-based launch vehicle start-up LandSpace has mainly developed the Zhuque-1 solid orbital launcher and the Zhuque-2 liquid orbital launcher.
The company secured a US$31.7 million series B financing round led by Chinese wind turbine manufacturer Goldwind in early April.