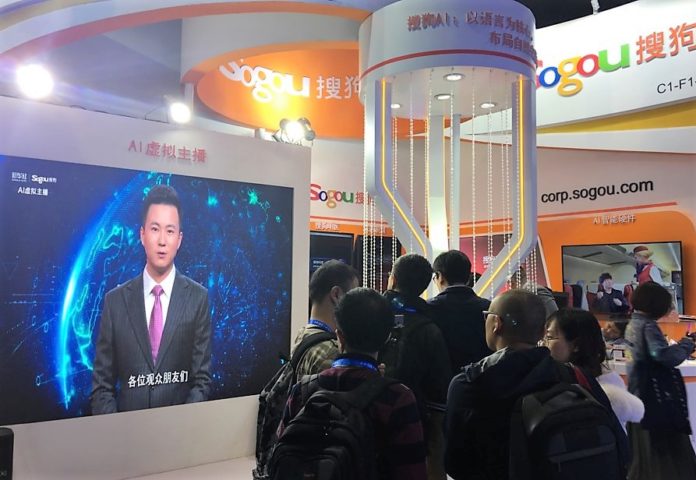 The world's first artificial intelligence (AI) synthesis anchor, developed by China's search engine operator Sogou, Inc. and claimed to have the same broadcasting ability as that of a human anchor, was unveiled at an internet exposition on Wednesday in eastern China's Zhejiang province.
Watch a video clip of the AI news anchor in action:

The AI synthesis anchor has started serving the China's state-owned media outlet Xinhua News Agency in both English and Chinese language news broadcasting. This is the first time that AI technology has combined with real-time audio and views news broadcasting, said Xinhua in a statement released on its WeChat official account on November 7.
Alike a "cloned figure", the AI synthesis anchor has "the equivalent broadcasting ability" of a human being, said Xinhua.
The AI synthesis anchor can simulate natural speech and expression by leveraging a range of technologies, including deep learning, speech synthesis, face feature extraction, lip language recognition, and advanced image detection and prediction capabilities. These technologies allow the virtual anchor to "broadcast" text inputs in real time in a non-stop manner, according to the statement.
Launched on Novemeber 7, the AI synthesis anchor will start handling some broadcasting work in several Xinhua's platforms including WeChat official account, China Xinhua News Network, Xinhua Shidian Weibo official account and Weiyuedu mini app.
The virtual anchor technology "could revolutionize the way we think about how humans interact with machines", said Wang Xiaochuan, chief executive officer of Sogou, in an earlier statement to showcase its newly-launched virtual anchor technology.
"Virtual assistants are already rapidly gaining traction as an efficient way to solve daily problems. Creating a more realistic virtual character will facilitate more natural interactions and enable this technology to become an even more integral part of everyday life," said Wang, adding that, the world is still in the early stages of exploring potential applications for the technology.
Founded in August 2010 by Wang Xiaochuan, Beijing-based Sogou primarily engages in the development and operation of Sogou search engine, Sogou input and Sogou browser. The company was listed on the New York Stock Exchange in early November 2017, with a 44% stake held by Chinese internet giant Tencent.