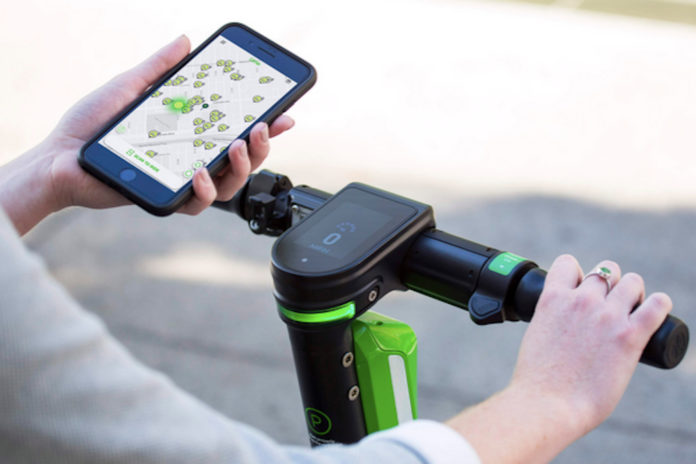 This article originally appeared on 996, a biweekly podcast on entrepreneurship in China
Lime, a GGV portfolio company that is transforming last-mile transportation, recently announced that they have closed US$310 million in a series D financing, valuing the company at US$2.4 billion.
On a recent episode of the 996 Podcast recorded in September 2018, GGV Capital's Hans Tung and Zara Zhang interviewed Toby Sun, the CEO of Lime, on why scooters have a future in the US and beyond, how Lime envisions its partnership with Uber, and whether Lime sees itself as a "super app" going forward. You can listen to this episode here.
Back in early 2018, we have also interviewed Brad Bao, the other co-founder of Lime, on the 996 Podcast. Back then, the company was still called "LimeBike." You can listen to this episode here. At that time, Lime's operation was still pedal bikes only. A lot has changed since then, and we are excited to see Lime's rapid growth as it disrupts micromobility in the US and beyond.
HANS TUNG: So it's been a bit of an interesting journey since you started this process at the end of 2016. What prompted you guys to make the change or start the evolution and the shift or pivot into scooters?
TOBY SUN: It's actually interesting if you look at our original plan from day one. We never positioned the company as a bike-sharing only company. So we started with bikes, and we named the company as LimeBike just to be more focused. Starting from day one, if you talk to some of our friends and even our investors, we had a bigger vision than just bikes.
We believed Lime is, in the long run, a brand that's empowering the urban living, starting from bikes and we're adding new products and services along the way to fulfill different user needs. So I would rather call Lime a user-centric company rather than a bike share company or a scooter share company.
With that said, because we have a bigger vision to create a micro mobility platform to serve people, move people from A to B, so bike share is the starting point and we're also constantly evaluating and innovating different products like e-bike, scooter.
HANS TUNG: Right. So how did you go around testing and deciding that e-bike and scooter are the next product you should be offering in early 2018?
TOBY SUN: Electric products have very, very strong power and we've seen that from a lot of user research and user feedback that we collected from the field. So the electric product has been in our roadmap starting from day one. So we actually started our innovation on e-bike in Q2 2017 and then Q3 we started to look into scooter sharing, started deciding what was the right market for us and also what's the right product mix to enter different markets to better serve users.
HANS TUNG: So from your perspective and the data you see, what is the common usage case for bike, e-bike and scooter, and what is the unit economics or payback period for these three? Are they different?
TOBY SUN: These three products have a very different kind of use case. For scooter sharing, we've seen very strong usage in the high-density areas and people use that to get from A to B much faster, and also the fun factor kicks in. So when you ride it, we see people smiling when they are riding scooters. And then e-bike, we've seen people using that for longer distance. So for example, for a scooter, the average distance is roughly a mile; for e-bikes it is actually 1.5X or sometimes 2X of the distance versus a scooter. We see people taking e-bikes not just for longer distance but also climbing the hill. So for example, in Seattle, people are choosing e-bikes for getting around a lot of the hilly terrains a lot more often than the other modalities. And of course the pedal bike, a lot of cities like that and also a lot of communities like that, because it's more affordable, and some of the people who want to get a little more exercise, they still choose to use pedal bikes.
HANS TUNG: The average use for the pedal bike is what, roughly half a mile, two miles?
TOBY SUN: The pedal bike is very interesting. Some people ride it for really long because they use that for exercise. Some people use that for a short distance, half a mile or 1.5 miles, so anywhere between that, I would say kind of similar to a scooter, so on average about a mile. So I would say the pedal bike really serves the equity program that we provide for a lot of the cities and also allows the users who want to do a little more exercise, it is a good fit.
Economic-wise, of course, the e-product is a lot better because people are willing to pay slightly more to have that better product experience. But the cost associated with that is also slightly higher, because we need to change the battery or charge the scooters more often than maintaining the pedal bike. So I would say slightly higher but not kind of crazily different.
ZARA ZHANG: I remember when scooters first took over San Francisco, everyone started talking about it. It became like, it was all over the news all the time and every time at the Caltrain Station, you see the scooters are gone in like one minute, especially during the transit hours. Why do you think scooters work so well in the US, and do you think it can be replicated in other markets like China?
TOBY SUN: Yeah, that's a good question we ask ourselves all the time as well. So funny enough, we also see a lot of kind of a quick turnaround using the scooters, right? So sometimes our operational team can't even put the scooters, touch the ground. So before it touches the ground, people are grabbing that away. So it's amazing utilization and then the passion that we see from the users is just fantastic. We're passionate about what we've seen so far, because we see the scooter could be a very interesting way to promote or excite people to embrace alternative mobility, other than just driving around. So that part I think is good.
And also back to your question, I think it is a very interesting culture-related product. A lot of people growing up in the US riding Razor scooters, push scooters, so there is actually a culture and a fun aspect of that and people are doing that as a kid, so that's great. And also speaking about international, we've seen some of the European markets have a very strong and similar use case on the scooter as well. We're not just in the US. We just launched Paris about three weeks ago, about to launch a feel more markets soon in Europe. We've seen equally good usage in Europe too.
ZARA ZHANG: Do you think it will ever work in China at all, given the cultural difference and just the condition?
TOBY SUN: Yup, so China is a wildcard, I would say, especially for the scooter. I'm not sure, but if I were to guess, I would say it will be utilized well, but will that be kind of a "few X better than bike"? That part I don't know.
So I think bike is already doing a very, very good job already. So China, in general, cultural-wise it is a good fit for bike sharing. I think in order to get that marginal improvement on utilization and economics on a scooter by investing a lot more on the operational side for charging and maintenance, I'm not sure if that's a wise kind of a go-to-market product for China.
ZARA ZHANG: To the extent that you can share, could you talk about the unit economics of scooters and the payback period as compared to bikes and e-bikes?
TOBY SUN: Unfortunately we can't share too much about it, but it's very healthy. I will say in some of the markets it is super, super good.
HANS TUNG: Obviously when one talks about scooter sharing in the US, another name that pops up is Bird. From your perspective, how well do you think they are doing and what differentiates the two services?
TOBY SUN: Yeah, Bird is a very respectful competitor. From our perspective, we welcome competition and we respect that. I think that's something that will only get us better, push us to improve and iterate even faster.
In terms of how this market will play out eventually, I don't have an answer. I think two companies competing could be an option, but also this is a market and space that requires a lot of different, I would say, skillsets and capabilities. For example, supply chain and hardware, there are a few things that we think really differentiate us from the competitors. One, supply chain and hardware, building the team capability, and then being able to scale the product with low cost and a high quality and then sustained that. So it's hard. I don't see many teams out there who can do it as well.
And then city relationships. Starting from day one, we set the strategy to really work with the city. Now we're in over 70 markets already across four countries, of course primarily in the US for now, but every single market that we go into and we're operating now, we have either an agreement or SLA or MOU. So we really work closely with the city to develop something that we can localize and customize our program, not just going rogue and then rock the boat. I think it's super important for us to establish that relationship. I think the city relationship, in the long run, will help us to win bigger.
And the third thing is really operational efficiency. We have two interesting kind of models to operate. One is the Juicer Program, which we crowd-source the people to maintain and charge the scooter for us, and also we have our own operational team. That is very important for us to maintain a higher level of quality of the operation that people see way less mis-parking, vandalism or problematic bikes or scooters in the market versus our competitors.
HANS TUNG: The supply chain, a lot of that is based in China, you guys are much better at operating and managing that piece than almost anyone else.
ZARA ZHANG: Has charging been a challenge? And how are you guys resolving that?
TOBY SUN: Yeah, charging is an exciting challenge for me, because this is an issue that has never been solved for a while across the space. So if you look at EV charging, if you look at some of the shared mobility which require electric kind of power, it has never been solved very well. Now we've seen very, very powerful tool using the Oracle platform, using our Juicer Program, allowing people like you or me to just go out, collect a few scooters every night with our personal cars to get that done.
ZARA ZHANG: I also want to discuss your recently-announced partnership with Uber. Uber CEO Dara has said on a number of occasions indicating that Uber wants to be a transportation super app. So besides the partnership with you guys, they also announced a partnership with Cargo which is a mobile convenience store, and at Fortune Brainstorm Tech, he said cars to Uber are what books are to Amazon. So they started with a premium service, UberBLACK, and then expanding into UberX, UberPOOL, and then food delivery, Uber Eats, and then partner with JUMP for bikes and now you guys for scooters. He said going forward they will have bus and metro systems show up on Uber as well. So how do you envision this partnership play out?
TOBY SUN: We will be cobranding in the market that we have, joint branding scooters and then we will also integrate our scooters in their app. We see our service very, very complementary to Uber, especially for the short distances, it is always better to either walk or use a bike or scooter to get around and it's more affordable. So I think we're uniquely positioned to do something that's serving a lot of the users we both have for that short distance. I think we look forward to pushing this through together with Uber.
And also, the other thing we're super excited about Uber's partnership is around international. Uber has a very strong international footprint and we look forward to expanding quickly, internationally, together with Uber.
HANS TUNG: A super app is a concept that a lot of people connect to WeChat, but what a lot of people don't know is that people in China were inspired by Facebook with the Facebook Connect as a super website back in 2008, 2009, with a single login. And then now you can see Uber borrowing the super app concept from WeChat or Meituan, which is a super app service in China, and to a lesser degree Didi as a super transportation app. You guys know both US and China markets extremely well. In what scenario can you imagine Lime might be a super app of its own as well?
TOBY SUN: That's a very interesting idea and we've seen especially the Chinese companies or Chinese apps have done a lot of things way faster and then execute really, really solidly at a very fast pace. That's something that we are always inspired as we're growing our Lime business. I think for the near term, we still want to make sure that we are leading and owning this micro mobility space, and moving forward I think what matters to us is really still users, right? So what the user really wants and what the user can naturally use our app for. So I think we'll leave that for users to guide us to move to more territory.
ZARA ZHANG: What are your thoughts on other verticals you could expand into such as delivering food or goods?
TOBY SUN: We don't know yet. I think a lot of areas are very, very exciting and then big markets and then also highly correlated to people's daily lives and very close to the way that people are using our service. So definitely we want to carefully analyze what's needed out there, what's not being solved very well and then what we can do better. By considering all this, we'll figure it out next.
ZARA ZHANG: I'm personally very excited for food delivery on bikes because that's how it works in China and it's so fast, because cars get stuck in traffic all the time.
TOBY SUN: And plus, we have a big basket. So on our bikes and e-bikes it fits two grocery bags, so it could be a good fit.
HANS TUNG: What are your thoughts in terms of what will be the future for last-mile transportation? Imagine what's it like five years, 10 years from now with a lot more autonomous driving being more prevalent in this society?
TOBY SUN: I would say for micro mobility, short distance, it will be either bikes or scooters or something else that we have not figured, but it will be more personalized, like fit one or two people, mostly one, and then very flexible, so you can basically hop on, hop off without waiting.
HANS TUNG: Some kind of pods or something.
TOBY SUN: Yeah, and it should be very affordable, so for that short distance, you don't want to pay more than $5 or $4 for that. Anything that fits that criteria I think could have a very, very good potential. That's one.
And then for longer distance, I think cars will be around for a long, long time. That is the current cars driven by people or autonomous driving. So I think for the longer distance, cars will be around for a long time, but what we care about is other than cars, what we can do. What can we do in addition to that? Bikes, scooters are what we are starting now, but also if there's other forms of transportation that's also solving this more efficiently and more affordably, we are also open to that.
ZARA ZHANG: So now that you've been running the business for a while now, has your vision of what the company could be evolved? How has it beaten or matched your expectations when you started out and what has surprised you?
TOBY SUN: It's a good question. I would say surprising, but also expected. When we first started, we know that this area is big. This is not just a billion-dollar industry, but also potentially trillion-dollar, right? Because we're touching people's most frequent, highest frequent way of getting around, which is short distance. If you think about the way that you get around every day, counting all of the walking as a trip, I mean, the territory that we are tapping into is possibly 80 percent or 70 percent of your daily trips, including walking. So that's an exciting area. We know it's going to be big and we know the solution that we provide is something the current alternatives are not solving very well, or providing as a more efficient way for people to get around.
So we're pretty confident about our product and the market and also we're proud of the team as well. So putting all this together, I would say things are expected growing relatively fast, but also it's somewhat surprising to me that the cities are also embracing this a lot faster than some of the technology innovation in the market in the past. So when we talk to the cities, a lot of the cities are a little bit skeptical, but primarily around how is this really going to solve our problem? But I think the vision is aligned.
ZARA ZHANG: Here in San Francisco we've seen a lot of changes with regards to policies. What do you think we can expect going forward, especially with regard to scooters?
TOBY SUN: San Francisco is working on a permitting program now. We are closely working with the city. We don't know the exact time. What we've heard so far is anytime in August. We are thrilled to continuously work with the city to make that happen ASAP, because San Francisco, after we launched about three to four months ago, it just very rapidly became one of the very, very big markets for Lime. We've seen huge adoption. People love it, and then also the behavior of parking and then vandalism is generally very, very positive. We have seen way less vandalism and that kind of parking issue in San Francisco than the other markets. In San Francisco, we've had almost 100,000 users within just a few weeks.
ZARA ZHANG: On a personal level, what is it like to build an American company in a relatively regulated sector as a first-generation Chinese immigrant?
TOBY SUN: Interesting question. It's definitely not easy, but also, I think to me it's finding that sweet spot, right? So I think not many things are a good fit for me. So I think finding the proper market fit is important.
I think for this particular industry, I'm so proud that I can serve as a bridge between the US and China, empower the technology and product with the supply chain hardware capabilities that we have in China, and also coupled by the knowledge that I had by living in the US and working in the US in the past many years to make that work. So having that cross-border perspective and then capability, I think that's something that I can offer for this business.
"996″ is a biweekly podcast on entrepreneurship in China hosted by GGV Capital's Hans Tung and Zara Zhang. On the show, they interview movers and shakers of China's tech industry and discuss how entrepreneurs around the world can learn from China's tech ecosystem. You can listen to the show by searching "996″ on any podcast app, or visiting 996.ggvc.com.