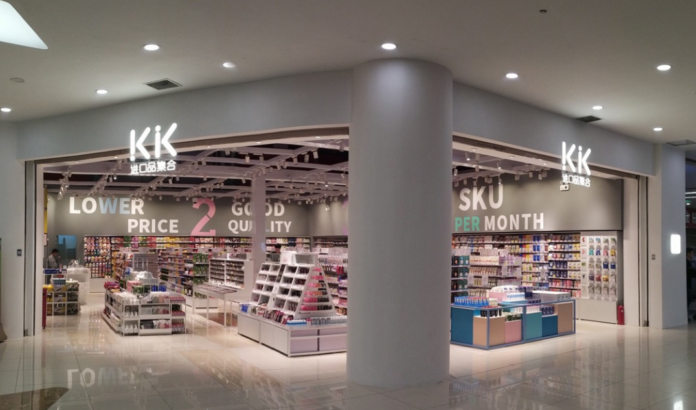 Chinese online-to-offline (O2O) imported products marketplace KK Guan announced on Tuesday that it has secured RMB400 million (US$59.58 million) in a series C round of financing led by Alibaba-backed eWTP Technology & Innovation Fund.
The new round, which was closed by the end of 2018, saw the participation of Chinese investment firm Hongtai Capital Holdings, and existing shareholders of KK Guan, such as Matrix Partners China, Bright Venture Capital, and Shenzhen Capital Group.
KK Guan was launched in 2014 under the operation of Guangdong-based Dongguan Yide Network Technology Co. KK Guan serves as an O2O e-commerce platform to provide a variety of cross-border products like snacks, beauty makeup, and personal care products. The company developed into "a one-stop imported products marketplace" with the combination of offline stores and online channels including a mobile app and a WeChat mini program.
The three-year-old platform already laid out over 100 brick-and-mortar stores in first- and second-tier cities in China. Official statistics cited by Chinese online publication iyiou.com show that the cumulative turnover of its offline stores retained a monthly growth rate of 20% from January 2017 to April 2018, with the monthly sales per square foot being RMB4,000 (US$595.91) on average.
KK Guan seeks to expand the number of offline stores to reach 400 in 2019. Proceeds of the new round will be used to finance the construction of its supply chain, improve brand influence, upgrade imported products, and lift user experience.
The platform raised a RMB70 million (US$10.42 million) series B round led by Matrix Partners China in April 2018, after it collected about RMB100 million (US$14.89 million) in a series A round from Bright Venture Capital and Shenzhen Capital Group in July 2017.
The leading investor, eWTP Technology & Innovation Fund, is a US$600 million investment vehicle launched by Alibaba in May 2018. The fund primarily finances global small- and medium-sized enterprises (SME) in their expansion into countries and regions along the routes of the China-proposed Belt and Road initiative.