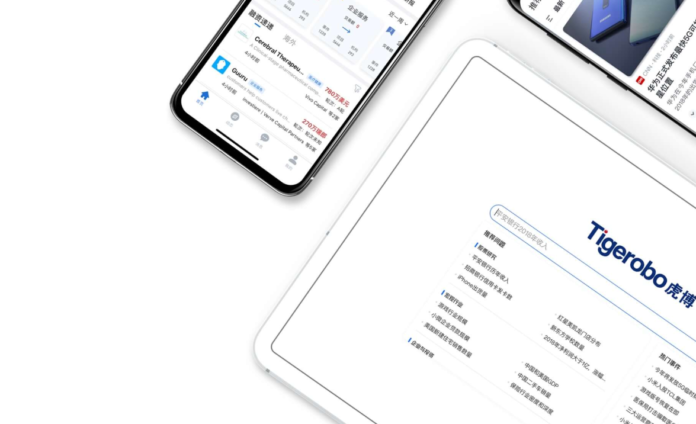 Chinese artificial intelligence (AI)-based financial search engine start-up Tigerobo announced on Tuesday that it has collected US$33 million in a series A round of financing from investment firm PAC, China-focused venture capital firm Gaorong Capital, and CreditEase New Financial Industrial Fund, an investment vehicle of Chinese fintech conglomerate CreditEase.
The new round came after a RMB100 million (US$14.89 million) series pre-A round in June 2018. It took the total capital raised by Tigerobo to about US$60 million, said Gaorong Capital in a statement released on its WeChat official account on March 12.
Tigerobo was launched in July 2017 by Chen Ye, a former executive at Microsoft and Chinese on-demand local service giant Meituan-Dianpian. Another founder, John Canny, is a professor of computer science at the University of California who also serves as technical advisor at Yahoo, eBay, Microsoft, and Google over the past decade. The company offers an intelligent search engine to help professional and individual investors improve their efficiency of research by orders of magnitude.
Utilizing the AI and neural text processing technology, Tigerobo developed a machine comprehension system that collects and transforms data into knowledge, automatically and promptly as the raw data emerges. The machine comprehended knowledge is then handy for users to consume, through a natural language interfaced chatbot or question-answering system.
Tigerobo is one of the few companies which successfully realized the application of natural language processing (NLP), said Liao Ming, founder partner of PAC, in the WeChat statement. Liao said that Tigerobo created "a new industrial landscape." NLP is a subfield of computer science, information engineering, and AI concerned with the interactions between computers and human natural languages, in particular how to program computers to process and analyze large amounts of natural language data.
The AI industry is "a fascinating area" that will bring profound changes to all walks of life in the following years as Chinese customers become more eager to quickly acquire serious information and knowledge, said Tigerobo's founder and chief executive officer Chen Ye.
Proceeds of the new round will be used in the research and development of new products and technologies, business exploration, talent recruitment, and expansion into the global market.
The previous series pre-A round was led by Gaorong Capital and NWS Holdings, an affiliate of New World Development Company Limited. In August 2017, Tigerobo closed an angel round worth tens of millions of yuan from Gaorong Capital, Light Up Capital, and Dianping.com founder Zheng Tao.