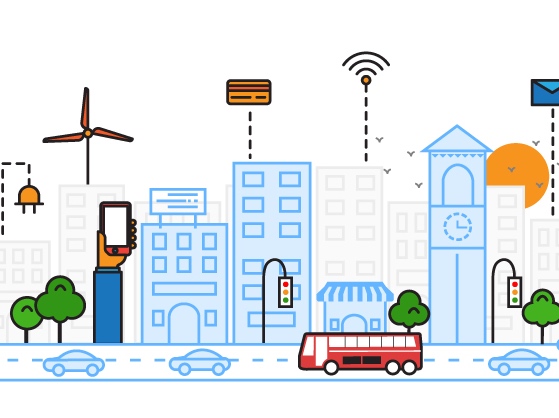 City Cloud International, a Chinese high-tech firm specializing in cloud computing and big data, announced on Monday that it has raised RMB300 million (US$43.37 million) in a series C round of financing from Chinese real estate developer Greenland Holdings.
Along with the investment, the two companies also entered into a strategic cooperation to join forces in the construction of technology-powered smart cities in China, said City Cloud in a statement released on its WeChat official account.
The duo plans to combine Greenland's advantages in "abundant capital and prominent market presence" with City Cloud's capabilities in technology, construction, and operation, to explore business opportunities in areas like artificial intelligence (AI)-enabled smart city, smart community, smart office, and smart hotel in the Chinese Yangtze River Delta, according to the statement.
The transaction represents the latest effort made by the traditional real estate developer to raise its stakes in the advanced technology sphere, especially in the AI field. Previously, Greenland paid RMB300 million (US$43.37 million) for over 13% shares in DeepBlue Technology in April 2018, which made it become the second-largest shareholder of the Chinese AI company. The company also owns shares in Chinese AI and internet of things (IoT)-enabled home appliances platform operator Tuya.
City Cloud International was founded in September 2012 to operate as an internet firm that leverages big data to provide one-stop services, such as smart connected community platforms and cloud computing services, for customers like small and medium-sized enterprises (SMEs) and local governments in China. The company said its services have covered over 1,000 industry clients and more than 100,000 SMEs in about 100 cities in China as of May 2019.
The company is headquartered in eastern China's Hangzhou city, which is also the backyard of Chinese e-commerce giant Alibaba. It currently has over 600 employees working from six cities in China, including Hong Kong, Beijing, Shanghai, Guangzhou, and Chengdu.
The cooperation between the two companies can help City Cloud speed up its business transition to focus more on providing smart and digital operation solutions to first and second-tier cities, while expanding into third and fourth-tier cities, said City Cloud chairman Chen Chun.
City Cloud International secured RMB200 million (US$28.91 million) in a series B round led by Hong Kong-listed property development firm Country Garden in October 2017. The company also completed a series A round from American networking hardware firm Cisco Systems.