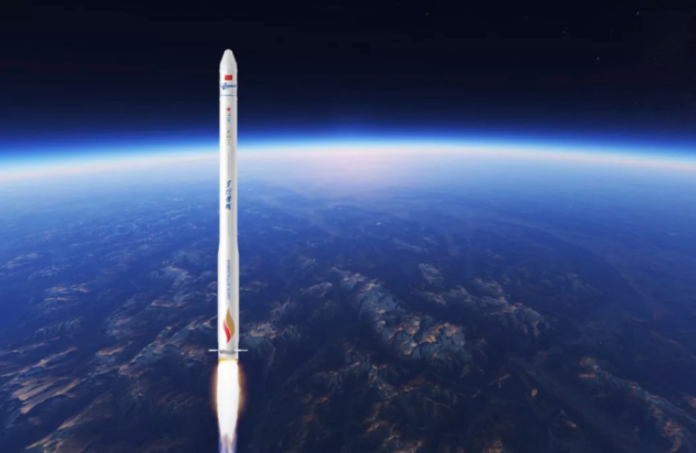 Chinese private space launch start-up Starcraft Glory, also known as iSpace, has become the first private company in China to successfully send commercial satellites into space on Wednesday.
The commercial rocket, named "SQX-1 Y1," blasted off from a launchpad located in rocky terrain at the Jiuquan Satellite Launch Center in the Gobi desert, Inner Mongolia, at around 1:10 p.m. Beijing Time. The rocket successfully sent two satellites into a 300-kilometer circular orbit, becoming the first private commercial space multi-satellite launch in the Chinese history, said iSpace in a statement released on its WeChat official account.
The SQX-1 Y1 solid-propellant rocket is also the largest carrier rocket with the greatest carrying capacity to enter into space flight in the private space launch history in China, said iSpace in the statement. The company announced that it expects to have a large-scale commercial launch by the end of 2020.
iSpace, formally known as Beijing Star Glory Space Technology Co Ltd, was founded in October 2016 by Peng Xiaobo, a former research director at Chinese space launch vehicle manufacturer China Academy of Launch Vehicle Technology (CALT). The company focuses on developing small-scale commercial launch vehicles and launch solutions for global commercial aerospace customers.
With research centers in Beijing and Xi'an, iSpace's previous products include small solid-fuel rockets, reusable liquid-fuel rockets, and sub-orbital spaceflights. The company launched the "Hyperbola-1S" on southern China's Hainan Island in April 2018 and the "Hyperbola-1Z" in Jiuquan in September 2018. Both the rockets completed sub-orbital flights.
In late March 2019, iSpace also performed successful joint tests of a turbopump and secondary systems for a 15-ton thrust methalox engine named "JD-1." The company currently has over 120 employees.
"We believe, with the joint support of favorable policies and abundant capital, the commercial space industry will continue flourishing and creating another potential for the future of human beings," said Xu Dalai, founding partner and CEO of Chinese venture capital firm Shunwei Capital, in a company statement.
Shunwei Capital backed iSpace in its series A round in July 2018. The funding round, led by Matrix Partners China, took the total capital raised by iSpace to RMB600 million (US$90.4 million) — the lastest statistics announced by the firm.