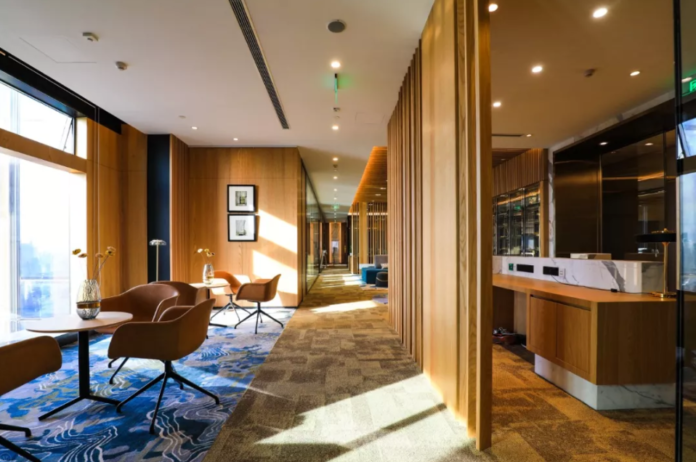 Chinese co-working space operator Beeplus announced on Tuesday that it has closed over RMB100 million (US$14.52 million) in a series B round of financing, reloading its ammunition to compete in the white-hot co-working space in China.
The series B funding round is composed of three tranches of capital injections: Beeplus unveiled the recent completion of series B2 and B3 rounds from China-focused private equity firm Ocean Link and Chinese state-owned urban construction company Zhuhai Da Heng Qin Company Limited. In early 2018, the start-up raised a series B1 round from investors including Chinese angel fund Faxian Venture Capital, said Beeplus in a statement released on its WeChat official account.
Beeplus claimed to be valued at RMB300 million (US$43.57 million) upon the completion of the series B1 round, according to another company statement released in late August 2018 — the latest official data unveiled by Beeplus. The company said in the statement that it was expected to reach a valuation of over RMB1.5 billion (US$217.88 million) after the series B2 round.
Beeplus did not immediately respond to China Money Networking seeking comments.
The investment came as China's co-working space industry is expected to exceed RMB60 billion (US$8.65 billion) in 2018, up 150% compared to the RMB23.5 billion (US$3.38 billion) estimated market size in 2017, according to a report by Chinese market researcher ASKCI Consulting.
The burgeoning market in China, however, has been largely taken up by a few co-working giants. Among them is Ucommune, a co-working upstart led by Mao Daqing, the former executive at Chinese property developer China Vanke Co. The company currently serves over 10,000 enterprises through 200 co-working locations in 37 cities worldwide, according to information on its website.
Beeplus was founded in September 2015 in southern China's Guangzhou province. The company mainly develops and operates co-working space for enterprises and individuals to work in a shared office space. The company also offers innovative retail solutions and customized one-stop solutions for office site selection, design, construction, and operation for large and medium-sized enterprises.
The company said that it has booked over 1,000% in annual performance growth rate in the past three years, and is expecting to reach a revenue of over RMB1 billion (US$145.30 million) in 2020. Beeplus currently has presences in cities like Zhuhai, Guangzhou, Shenzhen, and Shanghai.
Proceeds will be used to expand the company's business layout in the Greater Bay Area and other domestic markets including Beijing and Shanghai. The company also plans to enhance its customization services for large and medium-sized enterprises.
The Greater Bay Area, which is part of the 13th Five-Year Plan initiated by the Chinese government, aims to integrate Hong Kong, Macau, and nine southern mainland cities in Guangdong province into a world-leading economic and innovation hub.
Beeplus raised tens of millions of yuan in a series A round at a valuation of RMB150 million (US$21.79 million) in August 2017. The company also completed an angel round worth millions of yuan in July 2016.