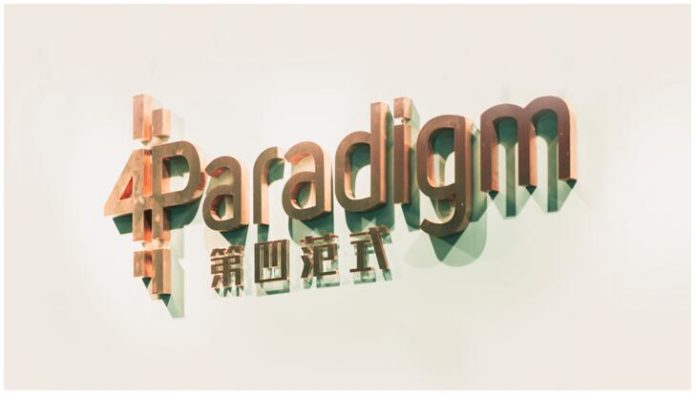 Chinese AI unicorn 4Paradigm has announced the completion of its latest series C+ funding round, which raised in total US$230 million in its series C round, and increased the company's post money valuation to approximately US$2 billion.
The completion of this new funding round further strengthens the company's shareholder list by introducing new strategic investors such as Cisco and Lenovo, and therefore lays a more solid foundation for the company to build its AI-based enterprise-level service ecosystem. Sequoia Capital remains the company's largest external shareholder post this transaction.
Since its founding in 2014, 4Paradigm has developed and deployed cutting-edge AI solutions by working with its clients in a wide variety of industries, including finance, retail, healthcare, manufacturing, energy, media, and internet. IDC Marketscape recently recognized 4Paradigm as having the number one market share in China amongst all machine learning platforms.
4Paradigm is dedicated to deploying best-in-class AI solutions to solve real-world problems in industry and in society, resulting in more innovative production, more sustainable consumption, more agile supply chains, more convenient healthcare services, and more efficient allocation of resources in both the private- and public sectors.
In keeping with this vision of AI, 4Paradigm has been at the frontline of the fight against COVID-19 since the beginning, contributing expertise and technologies to develop and deploy three major AI applications: a precision screening for prevention and control, a real-time scenario analysis system, and an infection contact sourcing system. These have played an important role in mitigating and controlling the epidemic in China. At the same time, 4Paradigm has responded rapidly to the surging demand for companies to shift workflows and business models online, providing clients with a full suite of intelligent, refined operational capabilities in an online environment. In this way, 4Paradigm has helped traditional industries such as finance, retail, and manufacturing achieve 'customer-centricity' and embrace digital innovation to seize new opportunities for online business and digital business.
In 2019, 4Paradigm started its globalization by expending business to Europe and Southeast Asia. As of February, the company has shown its commitment to industry best practices and regulatory compliance by gaining certification under the EU's General Data Protection Regulation (GDPR), widely considered the world's most robust legal framework for personal data protection. With its latest funding round completed, 4Paradigm will now accelerate the pace and scale of helping global enterprises achieve digital transformation through AI.