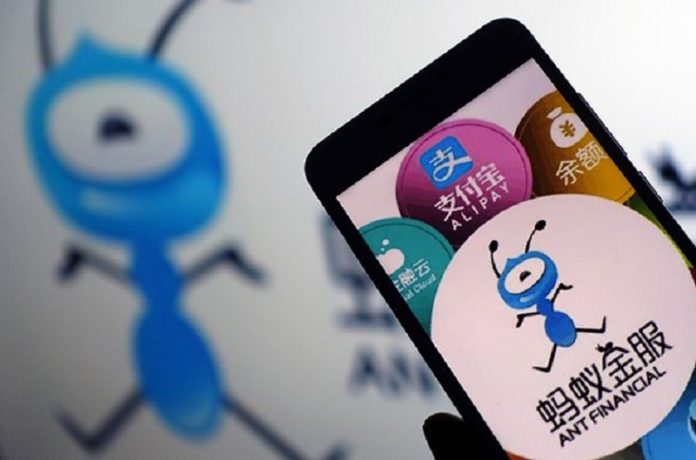 Ant Group plans to seek approval for listing on the Hong Kong Stock Exchange as early as next week
Ant Group, the financial services unit affiliated with Alibaba, plans to seek approval for listing on the Hong Kong Stock Exchange as early as next week. It may be the biggest IPO in history raising around US$30 billion.
Alibaba's new manufacturing project "Rhino Smart Manufacturing" officially unveiled
Alibaba's new manufacturing project "Rhino Smart Manufacturing", which has been kept secret for three years, was officially unveiled. This is the world's first new manufacturing platform.
The Rhino Smart Manufacturing Plant was officially put into operation in Hangzhou. Prior to this, this strategic-level project has been operating confidentially for 3 years.
According to the official introduction, Alibaba puts the exploration of new manufacturing first in the apparel industry. Rhino Smart Manufacturing is a digital and intelligent manufacturing platform dedicated to small and medium-sized enterprises. It uses cloud computing, IoT, and artificial intelligence technologies. Before it was put into production, more than 200 small and medium-sized Taobao merchants had piloted cooperation.

Bank of Communications reached a comprehensive strategic cooperation with Alibaba and Ant Group
Bank of Communications signed a comprehensive strategic cooperation agreement with Alibaba Group and Ant Group in Hangzhou.
According to the agreement, the three parties will further leverage their respective advantages, integrate complementary, interoperable scenarios, integrate resources such as platforms, customers, markets, channels and technologies, open up the full link of banking services and customer consumption, and commit to Internet companies in the digital economy era In-depth cooperation with financial institutions.
Kuaishou e-commerce: August orders exceed 500 million orders
Kuaishou e-commerce announced that in August 2020, Kuaishou e-commerce orders exceeded 500 million orders. In addition, Kuaishou e-commerce has recently officially launched 116 investment plans. At that time, there will be traffic support, cash subsidies and subsidies for supporting medium-sized live stream anchor merchants to increase their followers and sales growth.

Shouqi Car-hailing: Over 113 million registered users in the five years since its establishment
Shouqi Car-hailing announced its five-year growth data. So far, the number of registered users of Shouqi Car-hailing has exceeded 113 million, the number of successful drivers has reached over 1.13 million, and the number of operating cities has exceeded 160.
Compared with the fourth year, the number of users has increased year-on-year. 31.3%, the number of successfully joined drivers increased by 32.7%, and the number of operating cities increased by 66% year-on-year.
In addition, the data also shows that from 2019 to 2020, the number of Shouqi car-hailing compliant drivers has increased by 32.7%, and the number of users has also increased by 31.3%.

BA Capital raises the first US dollar fund
From people familiar with the matter, BA Capital, the joint investment institution behind many top new consumer brands such as Bubble Mart, Hi Tea, and Yuanqi Forest, has raised the first US dollar fund in the first half of this year and has completed it recently.
The first fundraising amount is about US$100 million. Up to now, BA Capital has managed two RMB funds in addition to USD funds.
Tmall and E-House jointly launched the "Tmall Haofang" platform
Tmall and E-House have jointly launched the Tmall Haofang platform. Tmall real estate department will not make money for at least the next 3 years, and 100% of all income will subsidize home buyers. In the future, Tmall Haofang will help real estate companies customize online real estate flagship stores, opening up the entire link of online house viewing and house purchase.
In addition, Tmall and E-House jointly released the "Real Estate Transaction Cooperation Mechanism", which will provide four major transaction scenarios for new houses, second-hand houses, special houses and auction houses.

Alibaba released report on Internet behaviors of China's youth
Alibaba's Taobao, Xianyu, Ele.me, Alibaba Health, Youku, Xiami Music, Shuqi Novels, etc. jointly released the Youth Network Behavior Report. It show that fitness, medical beauty, and health care are the hot search words for young people. Ele.me data shows that the peak of ordering meals for youth group lasts until 23:00 in the evening, and most of the delivery locations are office buildings. Xianyu data shows that the youth group have listed over 80 million idle items online for sale, among them 80,000 Kindles, traded 3 million idle mobile phones, recovered 8.29 million old clothes and 260,000 books.