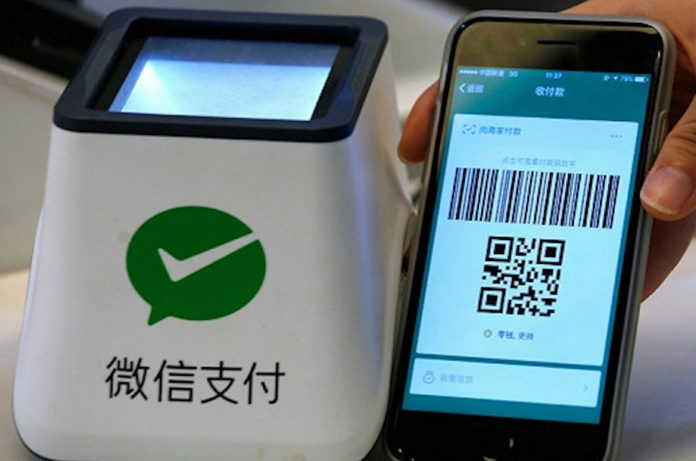 WeChat Pay plans to launch products in deposit market
WeChat Pay is planning to increase its presence in the the deposit market. In addition to the "bank savings" service in its mobile wallet, the WeChat Pay Licaitong platform has added new banking products, and currently displays the fixed deposit products of Bank of Shanghai and WeBank.
This feature is in the testing phase and is only open to some users. Tencent Licaitong launched on the WeChat platform in 2014, and currently has launched wealth management products such as currency, bonds, insurance, brokerage, banking, hybrid funds, index funds, and offshore funds.
Among them, banking products are mainly deposit products and structured deposit products provided by domestic banks, and wealth management products provided by bank wealth management subsidiaries.
Ant Group discloses strong performance during first three quarters this year
In its IPO prospectus recently submitted to the Shanghai Stock Exchange, Ant Group predicted that revenue in the first three quarters of this year will reach RMB114.5 billion to RMB117.5 billion yuan, a year-on-year increase of 38% to 42%.
The overall gross profit in the first three quarters It is estimated to be RMB66.8 billion to RMB69 billion yuan. In 2019, the annual revenue of Ant Group was RMB120.6 billion yuan. This means that the revenue in the first three quarters of this year is expected to approach the entire year of last year.
According to the prospectus, this benefited from the development of the domestic digital economy and the improvement of users' minds. High gross profit is in line with the business model characteristics of platform technology companies.
In the first half of this year, Ant Group's revenue was RMB72.5 billion yuan and net profit was RMB21.2 billion yuan. Among them, loan products such as Huabei and Bibei contributed nearly 40% of total revenue.
Ant Group plans to pass hearing at the Hong Kong Stock Exchange tomorrow, and simultaneously complete A shares and Hong Kong stocks liting in mid-to-late October. The Hong Kong Stock Exchange will disclose the post-hearing prospectus as soon as this weekend.
Bytedance acquires five internet literature companies
Bytedance has bought five online literature companies, including Guangzhou Mengmengda Tec, Wuli Culture, Xiuwen Technology, Dingtian Culture, and Tadu Literature.
Coupled with ByteDance's own online literature platform Panqie Novel, ByteDance is creating a mature online literature network. The company is reportedly looking to expand self-made online content, including online literacy, online IP, videos, and movies.
DJI to expand emergency rescue operations
DJI Industry Application held the "DJI Emergency Rescue Alliance Establishment Ceremony" in Beijing, and officially released the "DJI Emergency Rescue Alliance Operation Specification".
In fact, DJI's exploration in the field of emergency rescue began with the 2015 Nepal earthquake. In 2017, DJI established an industry application department to formally apply drone technology to industries such as public safety and emergency fire protection.
With the accumulation and progress of technology, with excellent performance in personnel perception, disaster assessment, search and rescue, the rescue use case that UAV technology can be applied to become more extensive. At present, it mainly covers many fields including forest fire prevention and fire fighting, production safety incidents, natural disasters and personnel search and rescue.
Huawei Guo Ping: If Qualcomm applies for a license, Huawei is happy to buy more of its chips
Guo Ping, Huawei's rotating chairman, said in an interview after the Huawei Connect Conference that Huawei has been purchasing chips from Qualcomm for more than ten years. He also noticed media reports that Qualcomm is applying for a US license to sell to Huawei. If they apply for it, Huawei is also very willing to use Qualcomm chips to make mobile phones.

TSMC's 2nm process or mass production in 2024
Taiwan media reported that TSMC's 2nm process research and development has achieved breakthroughs. Judging from the current R&D progress of TSMC's 2nm process, the supply chain expects TSMC to enter risky trial production in the second half of 2023, and formal mass production in 2024.
This will help it continue to win large orders for advanced manufacturing processes from major manufacturers such as Apple and Huida.
Kuaishou: commercial revenue increased 2.5 times from Jan to Aug
The senior vice president of Kuaishou, Ma Hongbin, announced at the product upgrade conference that from January to August this year, Kuaishou's commercial revenue increased by 2.5 times over the same period last year, and head customers increased by 2.6 times. In the coming year, Kuaishou Magnetic Engine will help 50 million creators obtain commercial income, and will use 40 billion traffic exposure to subsidize brands and high-quality creators.
Huawei launches Huawei service account
At the 2020 HUAWEI CONNECT, Huawei officially released the Huawei service account. Merchants can access the service account platform to achieve message push through Huawei mobile phone screens, life service apps and other portals.
Huawei also released a smart business district solution based on integrated maps and AR navigation capabilities, and an enterprise mobile terminal solution HEM (Huawei Enterprise Manager) for enterprises and merchants.
Ctrip report: October 1 holiday may see over 600 million people travel
Today, the Ctrip Travel Big Data Lab released the "2020 October 1 Long Holiday Tourism Cost Performance Report" statistics show that on the eve of this year's National Day, there are more than 1,500 scenic spots across the country for free or with discounts, and more than 20 provincial and municipal governments have issued travel coupons, plus various promotion subsidy.
This long holiday season is the most cost-effective long travel holiday in recent years. From the perspective of the recovery of the domestic tourism market, it is predicted that this year's National Day Mid-Autumn Festival eight-day long holiday tourists may reach 600 million visits.
Sensor Tower: Chinese mobile games achieved outstanding performance
Today, Sensor Tower's report shows that in the second quarter of 2020, the total revenue of overseas mobile games by Chinese companies reached US$2.46 billion, a year-on-year increase of 26%. A variety of games developed by Chinese manufacturers ranked among the top ten in the overseas strategic mobile game market revenue list.
Best Group and Cainiao launched a full-link cross-border logistics service between China and Malaysia
Today, Best Group and Alibaba's Cainiao cooperated to open a cross-border logistics service line that provides a full link from China to Malaysia, and provides terminal delivery services for Singapore consumers, further supplementing the capacity of Cainiao's cross-border parcel network.
The Sino-Malaysian cross-border logistics service launched by Best and Cainiao integrates full-link resources, including domestic cargo collection, international trunk line transportation, customs clearance, overseas warehousing, and terminal distribution to achieve "one order to the end".