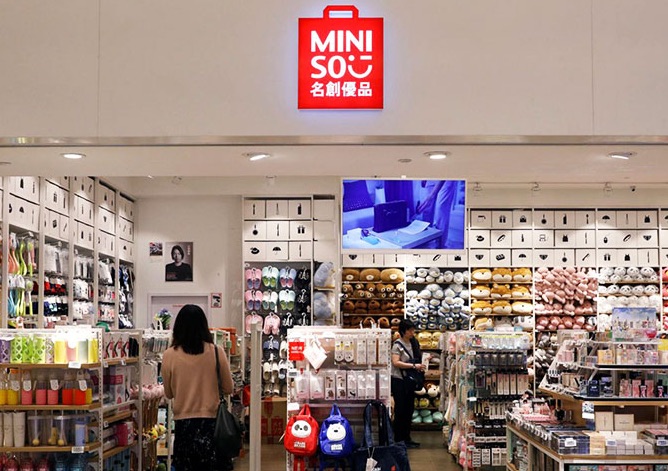 Chinese "Dollar Store" MINISO Plans US IPO
On September 24, MINISO formally submitted a prospectus to the US Securities and Exchange Commission and plans to list on the New York Stock Exchange and raise US$100 million.
MINISO previously received a RMB1 billion yuan strategic investment from Tencent and Hillhouse Capital. The current founder Ye Guofu holds 80% of the shares, and Tencent and Hillhouse Capital each hold 5.4%.
According to the prospectus information, GMV reached RMB19 billion yuan in 2019, with revenue of RMB9.4 billion yuan and a loss of RMB290 million yuan.
MINISO was established in 2013 by Chinese entrepreneur Ye Guofu and Japanese designer Jun Miyake. It is positioned as a collection store for young people's lifestyle goods, focusing on high quality and low prices.
Currently, there are more than 4,200 stores worldwide, covering more than 80 countries and regions including China, the United States, and Canada. Among them, China is the largest market for MINISO, with over 2,500 stores. It is reported that more than 70% of MINISO franchised stores, only 10% are directly operated stores, and some cooperative stores.
Lenovo releases ThinkBook new products series
On September 24th, Lenovo held a ThinkBook new product launch conference and released ThinkBook 15p, ThinkBook 14/15 and ThinkBook 13s/14s series of new products.
ThinkBook seizes the needs of young people for entrepreneurship and work after the epidemic, and further divides target consumers into young entrepreneurs and new generations of workplaces.
ThinkBook 15p is the entry point for ThinkBook. As ThinkBook's first standard pressure processor, the ThinkBook 15p is equipped with the 10th generation of Intel Core H series mobile processors to meet the professional needs of creative designers. Its screen supports 600nits high-brightness display and X-Rite. Pantone screen color calibration, 100% Adobe RGB high color gamut and HDR 400 high dynamic sensitivity, starting price of RMB5999 yuan, 4K high-definition screen version starting price of RMB7,299 yuan.
ByteDance launches online search bidding ads
According to reports, ByteDance recently launched online search bidding ads. As early as 3 years ago, Bytedance began to enter the search business. In 2017, a search team was formed and the active search layout was announced for the first time in August 2019. On August 10 of the same year, Toutiao search was officially launched.
Subsequently, ByteDance successively acquired Hudong Baike and Baike Mingyi.com to improve search content. In August of this year, many former executives of Baidu Search were reportedly joining ByteDance. Among them, there are many veterans such as vice presidents who were responsible for the overall business of Baidu search and Baidu's business system, and vice presidents of Baidu search business.
ByteDance's search service was initially limited to on-site searches based on the content of today's headlines, and now supports off-site content, and has performed some search binding services with Xiaomi and JMGO mobile phones.
Advertising is the main source of income for Bytedance. In 2019, its advertising revenue was about RMB120 billion yuan, accounting for more than 85% of total revenue. In contrast, Baidu's online advertising revenue in 2019 was RMB78.1 billion yuan, of which online advertising related to search engines accounted for 72.7% of the total revenue.
OPPO to release first smart TV products
Today at the OPPO Developer Conference, OPPO announced that it will release its first smart TV in October. OPPO Smart TV will serve as the content ecological entrance of the family use case, bringing new system-level experience.
Currently, OPPO smart TV details have not yet been disclosed. It is reported that the two OPPO TVs that have passed the 3C certification have screen sizes of 55 inches and 65 inches, and the manufacturer is TPV Display Technology (Xiamen) Co., Ltd.
The resolution of these two OPPO smart TVs may be 4K level, supports MEMC dynamic compensation, and is positioned in the high-end.
At the meeting, OPPO also released ColorOS 11 operating system, HeyTap health platform and other products. At the same time, OPPO announced that it will invest RMB200 million resources in the first phase to launch the "Energy-Energy Action 2.0″ initiative for the IoT industry.
Jing Xiandong, Chairman of Ant Group, announced launch of Alipay+ solutions
In the main forum session of the Bund Conference on September 24, Ant Group Chairman Jing Xiandong introduced the concept of "Alipay+" for the first time when predicting the future trend of globalization, and revealed that Ant has launched the Alipay+ solution this year.
He said that the future of globalization will definitely focus on three key words: openness, digitalization, and inclusiveness. The Alipay+ solution helps connect global merchants and e-wallet users, helping everyone in the world, every merchant, no matter where in the world, can easily realize global receipt, global payment, and global remittance.

Ministry of Commerce: will handle the export license application of ByteDance in accordance with laws and regulations
Gao Feng, a spokesperson for the Ministry of Commerce, said that the Beijing Municipal Bureau of Commerce has received the technology export license application submitted by Beijing ByteDance, and will follow relevant regulations and procedures in accordance with laws and regulations.
Huawei releases ADN, an autonomous driving solution
At the Huawei Full Connect Conference 2020 held today, Huawei announced the release of Huawei's autonomous driving solution ADN, introducing AI into the full stack to create an autonomous driving network solution.
Asia-Pacific cloud computing market ranking released: AWS ranked first, Alibaba Cloud second
On September 24, Synergy Research, a US market research organization, recently released cloud computing market data in the Asia-Pacific region for the second quarter of 2020. Data shows that in terms of quarterly revenue, Amazon Web Services (AWS) ranks first and has a leading edge, followed by Alibaba Cloud, Microsoft, Tencent Cloud, Google and NTT.