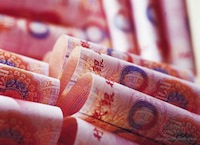 50,000 Shenzhen residents test out China's digital currency
China's digital renminbi that has been rumored for some time is finally available in a pilot program in Shenzhen first. As one of the four pilot cities, Shenzhen has distributed RMB10 million yuan of digital RMB red envelopes (Hong Bao) to 50,000 citizens through lottery, which can be consumed in 3,389 designated merchants citywide.
This is a landmark event of the development of a digital currency issued by China's central bank. As early as April this year, there were media reports that some agencies and institutions in Shenzhen, Xiongan, Chengdu, and Suzhou were piloting the use of the central bank's digital currency DC/EP to pay wages and subsidies.
Until August 14, the Ministry of Commerce issued a document to officially clarify that digital renminbi will be piloted in Shenzhen, Chengdu, Suzhou, Xiongan New District and other places during China's hosting of the Winter Olympics in the future.
Just a few days ago, the Shenzhen Municipal Government distributed RMB50,000 digital yuan in red envelops worth RMB200 yuan each to local citizens. The digital RMB red envelopes were drawn in the form of lottery, and a total of 1,913,847 people made appointments to register. On October 11th, 50,000 winners were officially released. Yesterday, some people started using digital RMB for consumption.
The functions and properties of this currency are exactly the same as banknotes, except that its form is digital, and there is no need to bind any bank accounts and payment accounts. It is mainly used to replace M0 currency (cash in circulation, namely banknotes and coins). Digital RMB combines the advantages of cash and mobile payment, which not only guarantees the convenience of mobile payment, but also retains the legal repayment, anonymity and dual offline payment of cash.
IDC: Lenovo ranked first globally in terms of PC shipments in Q3
IDC released a statistical report on the global PC market on Monday. The report shows that many countries have ushered in the second wave of the epidemic, and maintaining the continuity of business and online education is still the top priority of each economy, which has promoted the double-digit percentage growth of the traditional PC market.
According to IDC, global PC shipments in the third quarter were 81.3 million units, a year-on-year increase of 14.6%. Lenovo Group continues to rank first with a market share of 23.7%, with shipments of 19.27 million units. HP, Dell, Apple, and Acer ranked second to fifth.
China sold 138,000 new energy vehicles in September, up 67.7% YOY
The China Association of Automobile Manufacturers released data showing that China sold 138,000 new energy vehicles in September, up 67.7% year-on-year, of which Tesla China sold 11,329 vehicles.
FAW and Audi signed a memorandum of cooperation to establish a new energy joint venture
At the 2020 Sino-German Automobile Conference, FAW Group and Audi signed a PPE platform cooperation memorandum. The two parties intend to establish a new energy joint venture to locally produce PPE platform pure electric models in China, which is expected to be put into production in 2024.
China's average daily order for ride-hailing exceeds 21 million
Meng Qiu, the second-level inspector of the Transportation Services Department of the Ministry of Transport, introduced on the 12th that up to now, 1.04 million online car-hailing operating license licenses and 2.5 million online car-hailing driver licenses have been issued, and the average daily order for online car-hailing is more than 21 million orders.
A total of 22 educational companies raised a total of RMB4.273 billion yuan in Sep
In September 2020, there were 22 financing deals in the education industry, with a total of about RMB4.273 billion yuan raised by companies. The largest financing was a strategic financing of over US$400 million obtained by Zhangmen 1-to-1. In the same period of 2019, 23 financing deals occurred, a year-on-year decrease of 4.35%. Compared with the financing situation of last month, it showed an increase of 29.42%. From the beginning of 2020, the financing situation of the education industry has improved slightly.
Robin Li: Baidu artificial intelligence technology R&D expenses account for 19% of revenue
At the 3rd Digital China Summit, Robin Li, founder of Baidu, said that the company has invested a lot in artificial intelligence technology in recent years, and research and development expenses have now accounted for 19% of revenue, including Baidu's brain-based artificial intelligence technology, such as speech recognition and synthesis technology, natural language understanding technology, image and video recognition technology and others.
There are 415 billionaires in China, second largest population globally
From February to March 2020 alone, the total wealth of billionaires shrank by 6.6% from the beginning of 2020, a decrease of US$546 billion to US$8 trillion. The number of billionaires dropped by 43 to 2,058, due to impact from the pandemic and the related economic havoc.
As of the end of July 2020, the total wealth of billionaires reached a record of US$10.2 trillion, of which China accounted for 17%. It is worth noting that the Asia-Pacific region has the largest number of billionaires in the world with 831 people. Among them, 415 are from China and 36 are new billionaires. China has the world's second largest group of billionaires. From 2018 to the end of July 2020, the total wealth of Chinese billionaires increased by 71%, reaching US$1.7 trillion. Among China's billionaires, 98% are self-made.