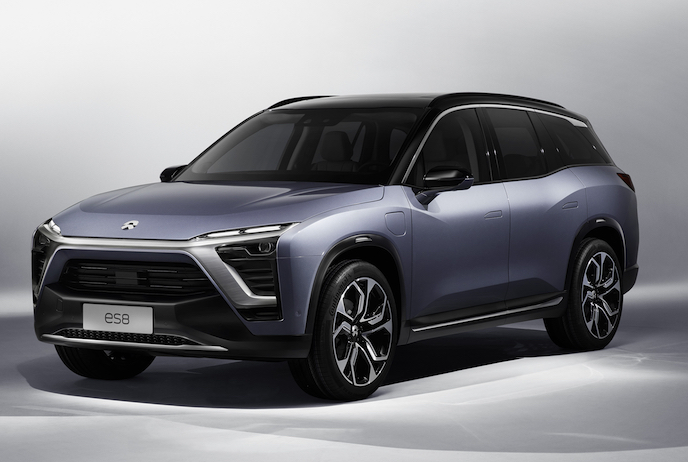 NIO plans overseas push
Chinese EV maker NIO is preparing to build an overseas business unit, and plans to sell its models in Europe. According to informed sources, the first overseas NIO House, its exhibition store, may be opened in Copenhagen, Denmark. Another person familiar with the matter said that NIO currently has a team responsible for the export business and plans to sell 7,000 ES8 and ES6 models to the local area within two years.
Xiaomi, OPPO, Vivo have increased orders for parts and components by 10%
In order to seize the market share vacated by Huawei's mobile phone business, recently, domestic mobile phone manufacturers such as Xiaomi, OPPO, and vivo have expanded their orders for Taiwanese parts. The number of orders placed has increased by at least 10% over the previous period and orders for some products have increased by 20%. MediaTek, Duntai, Supreme may benefit from this surge.
It is said that Xiaomi and other domestic mobile phone manufacturers increase orders mainly to capture mid-to-high-end, mid-to-low-end mobile phones in the mainland market.
Global Data Solutions lists in Hong Kong
Global Data Solutions Limited (09698), the largest third-party data center operator in China and the third largest data center provider in the world, officially listed on the Hong Kong Stock Exchange.
The IDC industry has been sought after by investors like Hillhouse Capital and Blackstone for more than half a year. GDS's listing makes it second only to the US data center leaders Equinix and Digital Realty Trust.
According to the iReach research report, in terms of revenue last year, the total scale of China's IDC market was RMB33.4 billion yuan, and the neutral data center scale reached RMB18.8 billion yuan, accounting for 56.3% of the total market.
Chinese audio content platform Lizhi FM sees market cap drop
Recently, the market value of Lizhi FM has shrunk by 60%, from US$500 million to less than US$100 million.
Lizhi FM was listed on Nasdaq at the beginning of this year, becoming the first online audio stock from China to list in the US. Since its listing, the stock price has fallen all the way, from the issue price of US$11.63 to about US$2 today.
The drop stems from the dismal performance of Lizhi FM. It is reported that the monthly paying users of Lizhi FM account for less than 1% of its monthly active users, while the user growth rate is weak, as the market growth rate is also slowing down.
Alibaba's Cainiao systems ready in 11 countries
Alibaba's Cainiao logistics network revealed on October 31 that a 6-month program involving 600 technicians was recently completed in 11 countries and regions including Southeast Asia and South Asia. This system transformation was led by Cainiao and coordinated with multiple e-commerce platforms in Indonesia, Malaysia, Singapore, Vietnam, Thailand, Philippines, Pakistan, Nepal, Myanmar, Bangladesh, Sri Lanka and other countries. Hundreds of express companies and small and medium sellers jointly completed the new system, which can cover a population of 1 billion.
ByteDance launches a comprehensive physiotherapy service platform
Recently, ByteDance has launched an app called "Xiaohe", which is a comprehensive physiotherapy service platform with online medical consultation and medical consultation. The predecessor is "Green Pine Cone". Along with this app is the "Doctor Xiaohe" App. Doctor Xiaohe is a back end platform that provides doctors with functions such as patient management and cash withdrawal.
Chinese central banker discusses challenges posed by fintech
At the Hong Kong Fintech Week meeting, the Governor of the People's Bank of China Yi Gang expressed his views on the competition between large technology companies and traditional commercial banks, new trends in the financial industry, and consumer privacy protection.
Yi Gang mentioned that big technology companies have significantly improved the level of financial services, especially in remote areas where service demand has improved. This was unimaginable before. The popularization of technologies such as mobile payment and QR codes has changed the rules of the game.
At the same time, he said that in the new world, new technologies such as big data and artificial intelligence not only put pressure on traditional commercial banks, but also bring new challenges to the central bank. How to make financial services more convenient and how to handle risks brought by technology security is an important proposition for the central bank.
The core of the game between traditional finance and financial innovation is "how to coordinate the development of technology, market, and regulation".