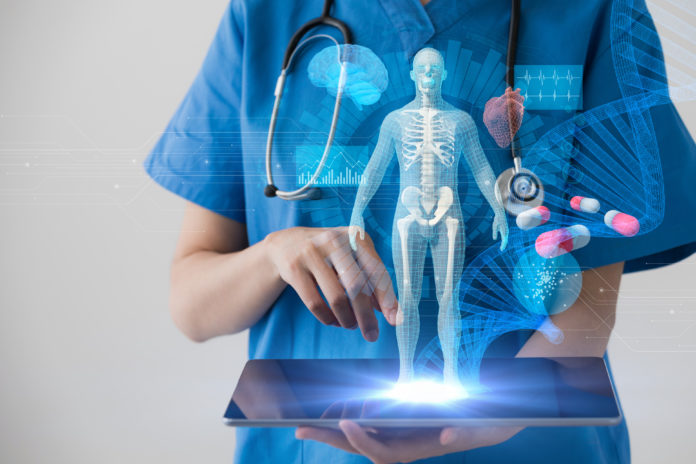 The pandemic had a profound impact on the medical industry. While China's Internet giants are taking social responsibility in the fight against Covid-19, the popularity of Internet healthcare services has also risen.
The role of online platforms such as Alibaba, Tencent, Baidu, and JD.com has become increasingly prominent. In the past year, what have China's Internet giants done in digital healthcare?
Of course, pandemic control has been the main theme and all Internet giants have actively participated. Below is a review of what Alibaba, JD.com, Tencent, and Baidu have done during 2020 in their digital healthcare businesses.

Alibaba
In 2014, AliHealth entered the Hong Kong stock market through a backdoor listing. In 2015, Jack Ma proposed the "Double H" strategy (Health and Happiness) for Alibaba Group. As the flagship platform of Alibaba Group in the healthcare field, AliHealth has been implementing this strategy ever since.
In the process of AliHealth's development, Alibaba Group continues to inject e-commerce resources into it. The continuous expansion of e-commerce business has also become part of AliHealth development.
In the past 2020, one of the important events of AliHealth may be its plan to acquire Tmall's medical e-commerce business for HK$8.075 billion.
But AliHealth's ambitions do not stop at acquisitions. In the past year, it expanded businesses in physical examinations, vaccines, and continuous cooperation with B-end pharmaceutical companies.
In terms of medicines, during the pandemic, AliHealth joined 50 pharmaceutical companies to ensure the supply of chronic disease drugs. In March, it cooperated with GlaxoSmithKline to announce the first release of the stable chronic obstructive pulmonary treatment drug "Quan Zai Le" on the AliHealth platform.
In September, it cooperated with Utimes to provide online one-stop services for patients with chronic diseases. In the same month, it cooperated with Jingxin Pharmaceutical to launch superior drugs in the cardiovascular field.
The importance of the physical examination business to AliHealth was highlighted in 2019 when it merged with Suning to acquire the domestic medical examination giant iKang Guobin.
In October of the same year, Alibaba became the second largest shareholder of Meinian Health. In 2020, AliHealth frequently interacted with Meinian Health and continued to conduct joint online marketing campaigns.
In the vaccine field, AliHealth has successively launched services such as "vaccine time-sharing appointment", and it is also continuously cooperating with leading companies in the vaccine field.
For example, in September, it reached a cooperation with Kexing Holdings to jointly build an "Internet + vaccine" digital platform and service. In October, it launched the AliHealth Vaccine Service 2.0 platform.
In addition to the e-commerce business, AliHealth is also constantly exploring new digital infrastructure-providing a platform for digital transformation of enterprises, digital transformation of hospitals, and doctors.
In terms of hospitals, Alibaba and the First Hospital of Zhejiang University jointly created the "Hospital of the Future" information system.
The 2021 fiscal year interim performance report released in November showed that the GMV generated by the Tmall pharmaceutical platform exceeded 55.4 billion yuan, a year-on-year increase of 49.7%.
The annual active consumers of the Tmall pharmaceutical platform have exceeded 250 million. During the six months from April 1 to September 30, Ali Health achieved revenue of 7.162 billion yuan and gross profit of 1.86 billion yuan, an increase of 74.0% and 80.3% respectively.
AliHealth turned losses into profits during the same period, with a profit of 279 million yuan, and its adjusted net profit reached 436 million yuan, an increase of 286.4% year-on-year. The positive revenue situation also gives the investors more confidence in AliHealth's future development.

JD.com
On December 8, JD Health went public.
JD Health, which has abundant e-commerce resources from parent JD.com, has not limited itself in pharmaceutical retail from the beginning.
It has been deeply involved in the Internet medical field, and expanded its industrial layout in the medical and health field through data and technology-driven smart medical solutions.
In its prospectus, JD Health divides its business into two parts: retail pharmacy business and online medical and health services.
Starting from the launch of the "JD Healthy Heart Center" in December 2019, JD Health has now launched 18 Internet medical centers, including the diabetes center launched in April 2020, the ENT center launched in June, and the oral center launched in August, and the Health Breathing Center and General Practice Center that went online in September.
While continuing to build an Internet medical center, in April 2020, JD Health also opened Nankai JD Internet Hospital.
In August, it even launched the "Jingdong Family Doctor" product. The general practice center launched in September can be regarded as a continuation of the family doctor service.
In November, JD Health released the "Jingzhikang-Family Doctor Guardian Star" (customized smart speakers), further realizing the "software and hardware connection" for family health management.
While continuing to make progress in the Internet medical field, JD Health has not forgotten its retail pharmacy business. In February, JD's "Medicine Delivery" launched the "Same City Delivery" drug purchase service, which was planned to be promoted in more than 20 cities.
JD Health provides users with medical services through self-operated JD Pharmacy, JD Health-Alliance Pharmacy, and unmanned drug vending machines.
JD Health provides delivery services to meet the individual needs of users through 11 drug warehouses and more than 230 other warehouses. At the same time, it has also achieved intra-city delivery in more than 100 cities.
Through the pharmaceutical product wholesale platform Yaojingcai, which links more than 170,000 terminals (including tens of thousands of primary clinics and village clinics), JD Health provides integrated services of all categories.
While continuing to develop offline business, JD Health is also cultivating the supply chain: In May, JD Health reached a strategic cooperation with Allergan, a global biopharmaceutical firm, to focus on services for millions of patients with eye diseases. It also launched similar cooperation with other business partners.
Tencent
Tencent has been involved in medical care since 2014 and started a model focusing on making investments in strategic companies.
On the one hand, Tencent helps individuals to access information, registration, consultation, drug purchase, payment and other health service digitally; on the other hand, it helps governments, hospitals, medical institutions, and pharmaceutical companies to upgrade their intelligent operations.
In terms of helping individuals, Tencent has chosen to medical insurance e-vouchers. As an important part of the relationship between patients and hospitals, medical insurance e-vouchers play a connecting role.
In 2019, WeChat, as the authentication and authorization channel of the National Medical Insurance Administration, first issued national medical insurance electronic certificates in Hebei, Heilongjiang, Fujian, Shandong and other provinces.
In September 2020, Tencent's health mini app was connected to the medical insurance electronic voucher section.
Tencent Weibao is committed to opening up insurance companies and the drug supply chain, so that drug suppliers can serve more users through insurance leverage.
In 2020, Tencent launched "micro-medicine insurance from "specific infectious disease insurance" to cover three major insurances: confirmed diagnosis, severe ICU illness, and death.
In April, it cooperated with Taikang Online and Taikang Bybo Dental to create a closed loop of dental insurance.
On the corporate side, in April, Tencent and Sinopharm Technology planned to establish a strategic partnership in the field of medical material procurement and services.
In terms of hospitals, in September, Wuhan First Hospital Internet Hospital was officially launched, becoming the country's first Tencent smart medical joint innovation base.
Tencent's investments in the medical field continued. In June, Linzhi, Tencent, as a strategic investor, participated in the fundraising of listed companies by no more than 600 million yuan; In November, Tencent Holdings invested an additional US$150 million in Waterdrop (Shui Di); in December, Tencent invested in Weitai Medical, Heyuan Bio, and Xingeyuan Bio.
Tencent is expected to continue to invest in retail pharmacies, medical information technology, pet healthcare, insurance technology, medical equipment, gene therapy, gene sequencing and other fields.
Baidu
In January 2015, Baidu Medical Division was established. But in February 2017, the division was abolished. In April 2018, Baidu established the AI ​​Innovation Business Unit (Baidu Lingyi) to develop medical AI.
Baidu Lingyi, as an important "window" for Baidu's AI+ medical care, has a wide-ranging layout in the three major areas of primary screening, clinical assistance decision-making, and medical data structuring.
Since February, Baidu has opened up LinearFold and RNA structure prediction websites to scientific research institutions for free, and opened multiple human temperature detection solutions to train stations and other places.
It open sourced the industry's first face detection and classification model for masks, which also helped Lianxin Medical Open source AI model of CT image analysis of Covid.
In December, Baidu released its PaddleHelix to help the field of biological computing.
In May, Baidu integrated the home doctor service function of Inspur Aihealth App and the advantages of Baidu Xiaodu smart speaker to launch Xiaoduaihealth new smart chronic disease home doctor service program.
In June, Baidu and MiaoHealth launched a smart family doctor solution based on Xiaodu's smart speakers at home in the field of chronic disease management.
The new sub-brand Baidu Health officially launched in March, based on the comprehensive upgrade of the health category in Baidu search.
From the perspective of development in 2020, Baidu Health has continuously formed a content ecosystem centered on Baidu Health Medical Dictionary and a service ecology centered on Baidu Health Asking Doctors.
Currently, Baidu Health's online medical services cover online consultation, appointment delivery of medicines, appointment registration, psychological consultation, insurance.
In January 2020, it opened a free channel for the "Ask a Doctor" service; in April, it launched an online appointment booking service for nucleic acid testing.
In May, it allowed users to watch doctors consultation channel during the live broadcast, which also enables it to realize the direct access and transformation of medical knowledge from popular science to medical consulting services.
At the same time, Baidu is also continuing to invest in the field of medical biology, covering areas such as gene editing, AI new drug discovery, single-cell sequencing, and innovative health insurance.
In 2020, Baidu (including Baidu Capital, Baidu Investment or BV Baidu Venture Capital) has invested in Yilai, Jianjia Robot, Huixian Pharmaceutical, and many other medical and healthcare services companies.