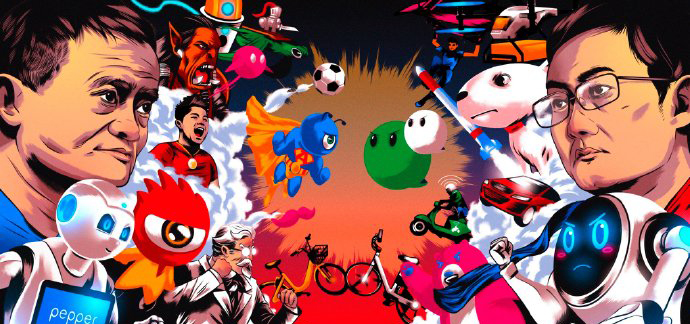 Tencent, Alibaba to build ecosystem connectivity, and Chinese Internet may usher in new opportunities
It's reported that Tencent and Alibaba will soon open their ecosystems. Alibaba will allow access to WeChat Pay in the e-commerce field, and Tencent will allow Alibaba to develop e-commerce services in WeChat ecosystem. This news has not been confirmed by relevant parties. If it is true, it means that China's Internet will usher in new development opportunities. In fact, Tencent's main business income comes from social networking and games, while Alibaba focuses on e-commerce and cloud services. The conflict between the two giants is not as fierce as expected. In the process of competing with each other, even the two companies have made progress together.
Chinese first 12-inch wafer recycling plant starts mass production
PNC Process Systems held a mass production ceremony in Hefei today. This is the first 12-inch wafer recycling plant in China, with total investment of about RMB1 billion. The project includes wafer regeneration and semiconductor component regeneration. The wafer regeneration project is designed to serve the high-end semiconductor market in China.
Adlai Nortye completes US$100 million series D round financing
Hangzhou-based biopharmaceutical company Adlai Nortye announced the completion of a US$100 million series D round financing. The round was co-led by CMG-SDIC Capital and Tigermed. Legend Star, WuXi AppTec Group, Triwise Capital, Guolian Investment, Tiange Interactive, Ruihe Venture Capital and ATCG Holdings also participated. The proceeds raised in this round will be used to promote the progress of clinical trials, initiate new drug R&D projects for more targets, and further expand the R&D pipeline and team. Adlai Nortye is an innovative biopharmaceutical company focusing on the field of tumor treatment.
IDC: China's BaaS market reached RMB630 million in 2020, with AntChain ranking first in market share
IDC released a report on China's BaaS(Blockchain As A Service) market. The report shows that China's BaaS market has developed rapidly at an annual growth rate of 91.8%, achieving a market size of more than RMB630 million. In terms of vendors, AntChain ranked first with a market share of 31.7%, and then Huawei (12.6%), Inspur (11.7%), Tencent Cloud (11.3%), Hyperchain Technologies(8.9%), and Baidu Smart Cloud (4.7%).
(China Money Network's articles are curated and translated from credible Chinese media organizations with established brands, experienced editorial teams, and trustworthy journalism practices. However, we are not responsible for the accuracy of the information. For any questions, please reach out to our editorial department.)