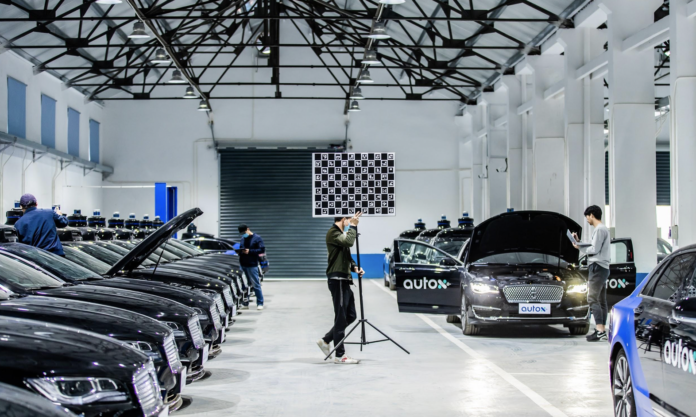 AutoX, the front-runner in Level 4 fully autonomous RoboTaxis in China, has built the first dedicated production facility in the country to produce Level 4 fully driverless RoboTaxis. Fleets of AutoX's Gen5 system-equipped RoboTaxis – which were officially launched in July this year and operate without accompanying safety drivers – are already rolling off the production line and getting ready to hit the road as demand continues to soar for autonomous vehicles (AVs).
Purposefully designed and built by AutoX, the factory produces the company's cutting-edge Gen5-powered RoboTaxi fleet. Since the factory opened in July 2021, the production line has completed three rounds of design and process optimizations to churn out AutoX's signature RoboTaxis with an extremely high level of accuracy and consistency.
To coincide with this announcement, AutoX has released a new video of its RoboTaxi factory while it is in operation, allowing viewers to see the inside of its state-of-the-art production line specifically designed to put together AutoX's fully autonomous Gen5 driving system and RoboTaxis.
Take an inside look at AutoX's Level 4 RoboTaxi production facility here: https://youtu.be/BEI-u-x9lTU
To ensure the production-level quality of the complex autonomous driving system, the production lines are equipped with a range of advanced production technologies and systems, including ABB robots, and control and transmission systems designed by Siemens, Omron, Schneider Electric, Philips, SEW, and Mitsubishi.
The video also offers viewers a peek at the AutoX Gen5 system for the first time, giving them a close look at the wiring and assembly of the two main sensor towers and blind-spot sensor suites. Hidden in the trunk of the RoboTaxi is the AutoX XCU, the vehicle computing unit that powers the autonomous driving software stack as well as all of the vehicle's high resolution sensors via automotive-grade connectors. The computer is connected to liquid cooling devices integrated with the vehicle's thermal management system. After installation, the compact AutoX XCU is tucked neatly under the trunk bed, leaving enough room for passengers' luggage.
Every RoboTaxi coming off the pre-delivery inspection line then proceeds to the automatic multi-sensor calibration turntable, and goes through wheel calibration as well as temperature and waterproof testing. As soon as a RoboTaxi leaves the facility's gates, it is ready to operate autonomously.
AutoX currently operates China's largest service area for fully driverless RoboTaxis across 65 square miles (168 square kilometers) of Shenzhen. The vehicles are able to navigate all public roads in the Pingshan District of Shenzhen, which makes AutoX the first driverless RoboTaxi service to cover an entire district in a Chinese megalopolis.
About AutoX
AutoX is the front-runner of Level 4 driverless RoboTaxis in China, with the mission of 'Democratizing Autonomy' to accelerate the advent of fully driverless cars. It was founded in 2016 by Dr. Jianxiong Xiao (a.k.a. Professor X), a self-driving technologist from MIT and Princeton. The company's self-driving platform is known to be capable of handling the most challenging and dynamic traffic scenarios in urban cities around the world. AutoX is the first and currently only company in China operating a fully driverless RoboTaxi service on public roads without safety drivers. AutoX currently operates hundreds of RoboTaxis across China, including within a fully driverless zone covering 65 square miles (168 square kilometers) of Shenzhen. AutoX is also the second company to obtain California DMV's completely driverless RoboTaxi permit. In January 2021, AutoX launched the world's second and China's first fully driverless RoboTaxi service that is open to the public. Headquartered in Shenzhen, AutoX has 12 offices and five R&D centers globally.