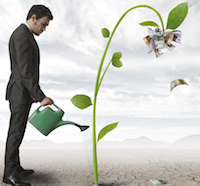 Shanghai-based Internet insurance company Zhong An Insurance is to raise RMB5.775 billion (US$931 million) in its first round of financing and the deal has won regulatory approval, according to unconfirmed Chinese media reports.
The fundraising amount is lower than the RMB9 billion (US$1.45 billion) reported previously.
Five investors, including Morgan Stanley, China International Capital Corporation Limited (CICC), CDH Investments, Keywise Capital Management and SAIF Partners, will acquire 206 million new shares issued by Zhong An Insurance for RMB24 per share.
Co-founded in 2013 by Alibaba Group Holdings, Tencent Holdings Limited and Ping An Insurance (Group) Co., Zhong An Insurance says it will use the proceeds to increase its registered capital and add to its reserves.
Ant Financial, the financial services arm of Alibaba, is currently the largest shareholder of Zhong An Insurance with a 19.9% stake. Tencent and Ping An Insurance each holds 15%.
After the completion of the financing deal, Ant Financial will see its stake diluted to 16%, while Tencent and Ping An Insurance's stakes will be lowered to 12%.
CDH, Keywise, and SAIF will hold 4.997%, 4.932%, and 4.47% of Zhong An Insurance respectively. Morgan Stanley and CICC will each take a 2.48% and 2.52% stake.
Within its first year of operation, Zhong An Insurance claims to have underwritten over 630 million insurance policies and serviced over 150 million clients, according to its website.
China's Internet insurance sector has grown 26 times in terms of underwriting from 2011 to 2014. Zhong An's share of total insurance underwriting has increased from 1.7% in 2013 to 4.2% in 2014, according to a report by the China Insurance Regulatory Commission.