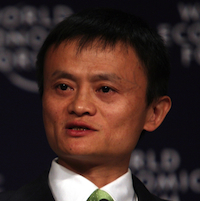 The founders of Chinese Internet giant Alibaba Group Holding Ltd. have established a US$3 billion charitable trust to help improve China's environment, according to Alibaba's official Sina Weibo account.
The trust will be founded by stock options owned by Jack Ma, Alibaba's founder and executive chair, and Alibaba co-founder Joe Tsai.
The combined stock options committed to the trust equal to 2% of Alibaba's total share capital, says the announcement.
The trust will focus on improving the environment, healthcare, education and culture sectors in Mainland China, Hong Kong and other places.
The decision to establish this charitable trust was made in 2013. The two backers of the trust hope that their action will encourage more Chinese entrepreneurs to give their wealth to charitable causes.
In 2010, Alibaba committed to contribute 0.3% of its annual revenue every year toward its own charitable fund, which focuses on improving water and air quality in China.
Last May, Jack Ma said that he would contribute all his equity income from Yunfeng Capital, a Shanghai-based private equity firm co-founded by him, to Alibaba's own charitable fund.