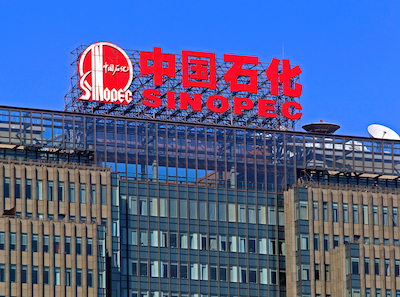 China's second largest state-owned oil company, China Petroleum & Chemical Corp. (Sinopec Corp.) says one of its subsidiaries has sold 29.99% of itself to 25 privileged domestic and foreign investors for RMB107.1 billion (US$17 billion), according to a regulatory filing.
As part of China's effort to bring private capital to diversify its state-owned enterprises, the investment will see Sinopec's ownership of the subsidiary, Sinopec Marketing Company, decrease to 70.01% from the previous 100%.
Established in 1985, Sinopec Marketing distributes refined oil products produced by Sinopec. In April 2014, Sinopec injected all its 31 provincial subsidiaries and some other assets into Sinopec Marketing.
Four investors, China Life Insurance Company Ltd., Shenzhen PICC Tencent Munsun Energy Investment Fund LP, Harvest Capital Management Co., Ltd. and Qianhai Golden Bridge Fund I LP will each acquire a 2.8% stake of Sinopec Marketing.
A fund under CICC Investment Group Company Ltd. and other entities co-owned by CICC (China International Capital Corporation) plan to acquire a combined 4.2% stake of the unit.
The US$6 billion-under-management Asian private equity firm RRJ Capital, will purchase 1.008%, and Hopu Fund will acquire 0.398%.
Other investors include ICBC Credit Suisse Investment Management Co., Ltd., Fosun International Ltd., HuaXia Solar Development Ltd., and China Deyuan Capital (Hong Kong) Ltd.
RRJ is founded by Richard Ong, former founder and CEO of Hopu Fund. He spent 15 years with Goldman Sachs with the latest position as co-head of Asia Ex Japan investment banking.